BM# 63: Journey through the Cuisines 
Week 1: Bengali Cuisine
Day 7: G for Ghugni
Today I have a very popular street food from Bengal, called Ghugni. It is also quite popular in Bihar, Jharkhand and Orissa too. I've made the Jharkhand version for one of the earlier mega marathons. There it is served with dhuska or a lentil based flatbread.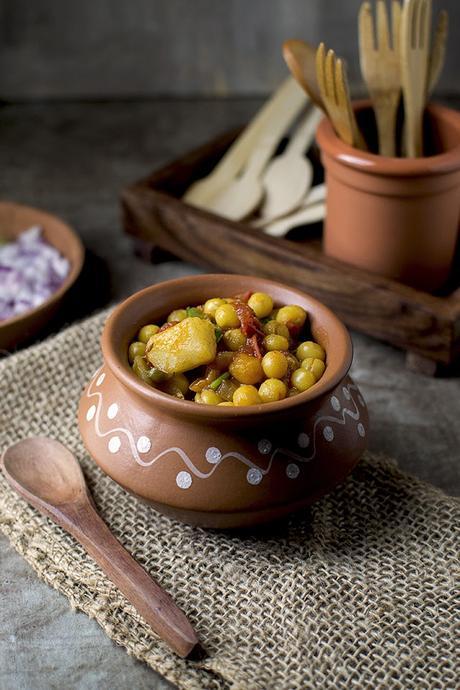 Bengali version is almost similar to that of Jharkhand except it's made with white peas instead of black chickpeas. Read Sandeepa's post to learn more about Ghugni and how it is an integral part of Bengali food. It is like Chole to the North Indians.
I loved cooking and eating this ghugni. My husband was traveling when I made this, so I ate it all by myself -- it was my lunch & dinner for 2 days and I didn't mind eating the same dish one bit.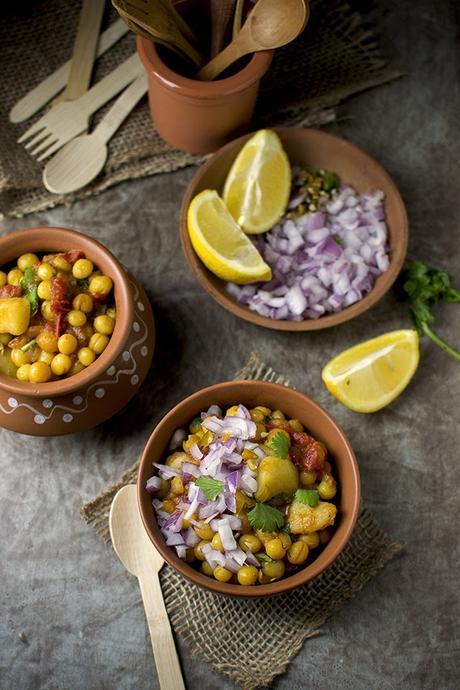 I cooked the soaked dried peas in open pot because I didn't want to overcook them in the pressure cooker. But if you are confident that your pressure cooked peas will not get too mushy, then go ahead and use it -- it will surely save you some time.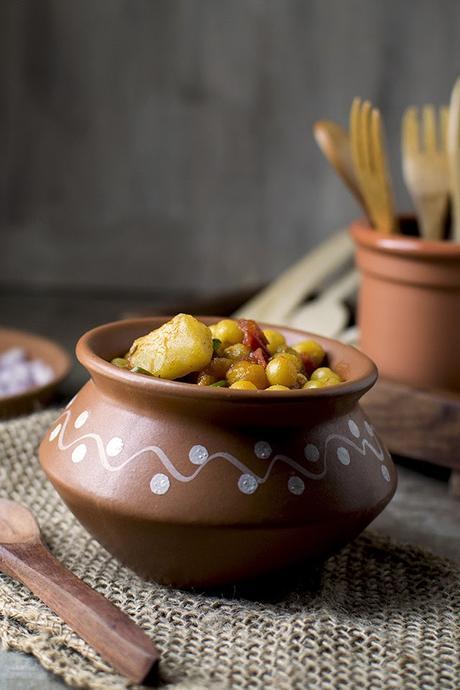 If you like chaats and spicy food, then this dish is definitely for you. Served up with chopped onion, green chilies and a boiled egg (which is optional, but I totally loved it), this is a delicious and filling dish that is going to be a sure shot hit with anyone.
Recipe from Sandeepa's Bongmom Cookbook
:
Ghugni
Ingredients
:
For the Peas:

1cup

Dried White Peas/ White Vatana

1"

Ginger piece, finely grated

¼tsp

Turmeric

½tsp

Kashmiri red Chili powder

3~4

Green Chilies

1

Medium Potato, peeled and diced

For the Bhaja Masala:

1tbsp

Cumin seeds

1tbsp

Coriander seeds

2~3

Dry red chilies

For Ghugni:

1

Medium Onion, finely chopped

2

Medium Tomatoes, chopped

2tbsp

Mustard oil

1tsp

Cumin seeds

2

Garlic cloves, finely minced

½tsp

Aamchoor or 1tsp tamarind paste

To Taste

Salt

For the Toppings:

1

Small Red Onion, finely chopped

1~2

Green Chilies, finely chopped

1~2tbsp

Lemon juice

As needed

Boiled eggs (optional)
Method
:
Prep the Peas: Soak the dried white peas overnight. Drain the water and rinse well.
Make the Bhaja Masala: Dry roast cumin, coriander seeds and dry red chilies until fragrant. Cool and grind the spices into a fine powder.
Boil the peas: Combine soaked peas, potato, turmeric, Kashmiri red chili powder, ½tsp Bhaja masala, grated ginger and green chilies in a heavy bottom sauce pan or the pressure cooker. Bring to a boil, lower the heat and simmer for 20~25 minutes or until the peas and potato are tender, but not mushy. Alternately pressure cook for 3~4 whistles. Set aside. Do not discard the cooking liquid.
To make Ghugni: In a pan, heat 2tbsp mustard oil, add the cumin seeds and once the seeds start to splutter, add the chopped onion and cook till they turn lightly browned around the edges. Stir in the minced garlic and cook for 1 minute.
Next add the chopped tomatoes, 1tsp Bhaja masala and salt; cook till the tomatoes get mushy and the oil starts to separate around the edges.
Next add the boiled peas and potatoes along with aamchoor or tamarind paste and ½cup of cooking liquid. Simmer for 10~15 minutes or until the peas are completely tender and soft. Add more cooking liquid if the ghugni gets too thick.
Taste and adjust the spices and seasoning as needed. By the time the ghugni is done cooking, it should have a thick consistency.
To Serve: Spoon ghugni into serving bowl and top with finely chopped onion, green chilies, squeeze of lemon and an optional egg. Enjoy!!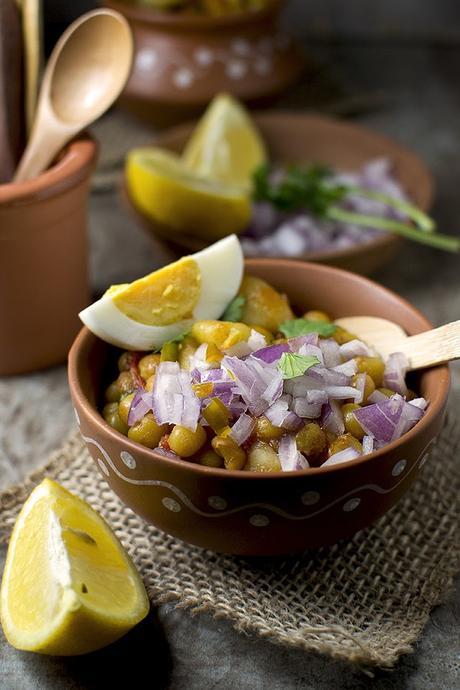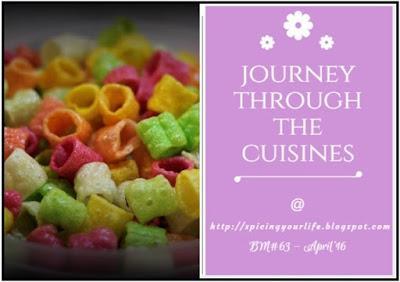 Check out the
Blogging Marathon page for the other Blogging Marathoners doing BM# 63
An InLinkz Link-up