Sam Roberts has recently posted news of two great opportunities on his Ghostsigns site.
1. Probably inspired by the Countryfile calendar 2014 (check out February's "Feeding Frenzy" shot by my friend and neighbor Mr Andy Colbourne), Sam has launched a similar competition for a Ghostsigns calendar.
This is not just limited to images taken of signs in London or the UK – Sam is hunting for the World's 12 best ghostsign photographs. So, all you people out there reading this in far off places such as Australia, Canada, Buenos Aires, please dig out your photos or start snapping now!  You can submit up to 5 images. Landscape format. Deadline midnight Thursday 7th November.I will definitely be submitting this one (hmmm... but which 4 others? Choices, choices!):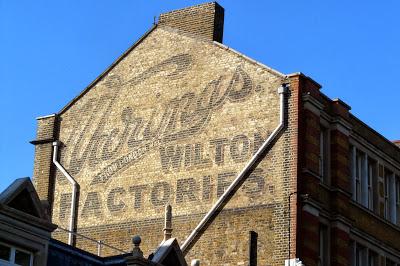 2. After the test run last Sunday, which finished just as the rain fell down (phew!), Sam will be leading guided walking tours around the ghostsigns of Stoke Newington where, due to the lack of modernisation (blandification/homogenisation), there is a high density of these lovely old hand-painted gems. The tours take place on the first Sunday of each month from Sunday December 1st. More info and booking details here.
Here are some of my shots of the signs along the walk, though, sad to report, that a couple of these have changed for the worse since I took these photos back in 2008.