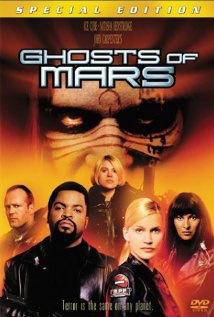 Director: John Carpenter
Writer: Larry Sulkis, John Carpenter (Screenplay)
Starring: Natasha Henstridge, Ice Cube, Jason Statham, Clea DuVall, Pam Grier, Joanna Cassidy, Richard Cetrone, Rosemary Forsyth, Liam Waite
Plot: Years in the future, a Martian police unit is sent to pick up a highly dangerous criminal at a remote mining post. Upon arrival, the cops find that the post has become a charnel house.
There may be spoilers the rest of the review
Verdict: Standard Sci-fi Horror
Story: Ghosts of Mars starts by showing a ghost train returning from a mining community Lieutenant Melanie Ballard (Henstridge) is the only survivor from mission. Melanie is going to be telling us the story now, her story starts by showing us her team who are sent to pick up a prisoner. Her team comprises of Sgt Jericho Butler (Statham), Bashira Kincaid (DuVall), Commander Braddock (Grier) and Descanso (Waite), they have been sent to pick up Desolation Williams (Cube).
The small Martian community at Shinning Canyons is abandoned splitting up they look for answers. The teams both find remains of humans and the prisoners in their cells. Williams was arrested in suspicion of killing people the very same way the communities were found in. the community keeps throwing out surprises with people turning up out of nowhere and the Commander disappears.  It does appear the unit might not be completely alone but after Williams escapes they stay focused on trying to re-catch him, but they should be more worried about the other people that keep turning up out of nowhere, the very people who have become possessed by the ghosts of Mars.
The remaining people will have will have to team up with the prisoners to take on an army of possessed who will do horrific things to them if they get caught. We do end up learning of the origin of the possession.
Ghosts of Mars is a story be told which then has short stories being told which keeps happening over and over again, it turns into a giant game of Chinese whispers. Taking that point away we do end up with a very simple survival horror in space. We have the authority character who doesn't always play by the rules teaming up with the criminal to survive and the old you can go this time moment. This is turning into a very generic sounding story and the truth is that is all it is. (5/10)
Actor Review
Natasha Henstridge: Lieutenant Melanie Ballard who is the lone survivor on the abandoned train, who is telling the story to her superiors, she has to take control of the situation while dealing with her own problems with addiction and becomes the reluctant hero of the story. Natasha does a solid job still holding onto her sci-fi fame at the time. (6/10)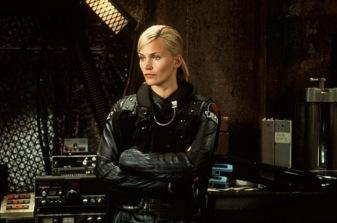 Ice Cube: Desolation Williams a criminal who the team is transferring, but when the circumstances change he has to team up with those same people to make it out alive. Ice does a solid job but showed he isn't the power force Jason was going to becoming. (6/10)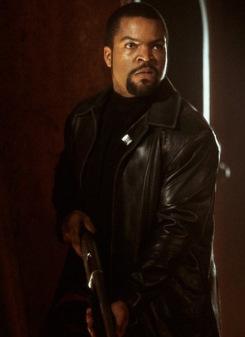 Jason Statham: Sgt Jericho Butler new cocky member of the team who can unlock anything as well as thinking he is god's gift to woman. Jason does a good job in this supporting role showing that he was always going to be more of the star. (7/10)
Support Cast: Ghosts of Mars has a supporting cast that includes fellow soldiers, prisoners and a scientist who all help uncover what has happened, also let's not forget about all the possessed people who are after them.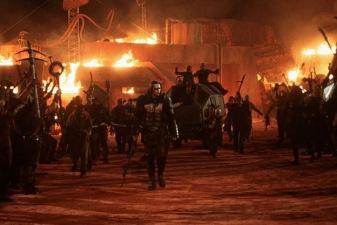 Director Review: John Carpenter – John doesn't reach the levels you would expect from one of his films, we would be used to seeing a lot higher standard. (5/10)
Action: Ghosts of Mars has plenty of fights, mixing up the combat as the film unfolds. (8/10)
Horror: Ghosts of Mars doesn't reach any solid levels of horror through the film. (3/10)
Sci-Fi: Ghosts of Mars enters into the sci-fi world well taking us to Mars for the story. (8/10)
Settings: Ghosts of Mars is set on Mars which makes for a good setting it also gives us an isolated setting. (8/10)
Special Effects: Ghosts of Mars doesn't end up using the best special effects. (5/10)
Suggestion: Ghosts of Mars is one for the die hard Carpenter fans to watch it might also be enjoyed by the sci-fi fans. (Sci-Fi Try)
Best Part: The Battles are good.
Worst Part: The talking is boring.
Action Scene Of The Film: The escape.
Believability: No (0/10)
Chances of Tears: No (0/10)
Chances of Sequel: It is left open for one, but it is unlikely to happen.
Post Credits Scene: No
Oscar Chances: No
Box Office: $14 Million
Budget: $28 Million
Runtime: 1 Hour 38 Minutes
Tagline: It's their planet… we are the aliens.
Trivia: Jason Statham was originally hired to play James "Desolation" Williams, but was replaced by Ice Cube for star power.
Overall: Easy to watch, harder to enjoy
Rating