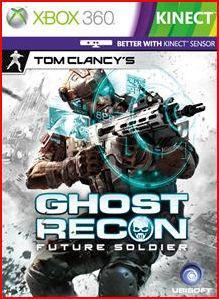 According to the box art it is!
The often delayed Ghost Recon Future Soldier looks to be getting the Kinect treatment according to the official box art released today on the Xbox marketplace website. Details on what feature will be included in the game have not be announced as of yet with an E3 announcement the most opportune place to feature such an announcement. With Microsoft facing a backlash from many gamers on message boards and in other gaming sites who bought the Kinect expecting some sort of "hardcore" gaming experience have yet to see a true adult focused implementation of the technology. The label at the top of the box art does say "Better with Kinect" suggesting that it's Kinect features may be supplementary to the game. With all of the hand gestures and movement of your squad mates in the past GRAW games, this seems to be the most logical implementation of the technology. I suppose speculation is the best we can do for now until we here more at E3 in two weeks. Stay tuned here for more information as it is made available and feel free to say what you think the implementation will be in the comments.
Invite your friends to join the Fan Boy Nation!