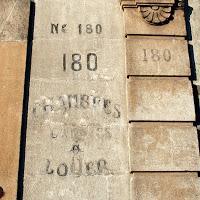 The time has come for another tour of some of the faded hand-painted signs - or, if you will, ghost signs - to be found in and around Bordeaux, and which are to be admired and savoured before they fade away for good... and all of which can be located in the slowly-expanding dedicated GoogleMap!
This first unusual find can be spotted on the walls of a house on Cours du Médoc, one of the main arteries into the city center from the north. In case you're wondering, the house is number 180... although this is easy to work out as three generations of 180s are still very much visible above a sign that still promises "
chambres garnies à louer
" (furnished rooms for rent - thanks to
Twitter correspondents
for helping me decipher the phrase!). This suggests the building was previously a guest-house possibly providing mid- to long-term accommodation.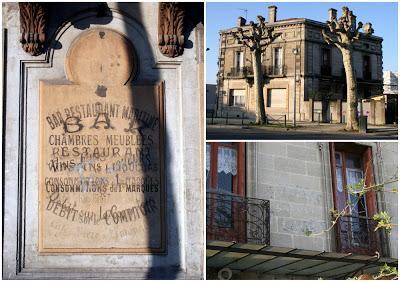 Elsewhere, an information panel is a mass of information about this "
maritime bar-restaurant
" which offered wines and liqueur (as well as "
café, bière & limonade
") over the counter. At one time, some of the wording must have been painted over existing information but now everything appears at the same level. What, though, would have been "
consommations de 1ères marques
"? Any ideas?
[Find it]
**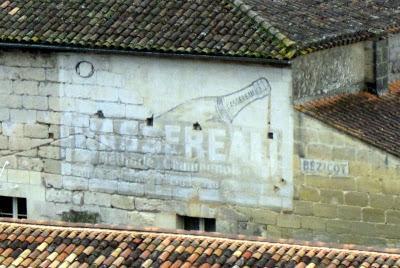 Over in Bourg-en-Gironde, this old advert for Bassereau "
méthode champenoise
" Champagne-like sparkling wine is still discernible. The Bassereau family produced this wine in Saumur, Vouvray, Bourgogne, Champagne as well as here in the Bordeaux region, more specifically in the Côtes de Bourg area on the banks of the Garonne river/Gironde estuary, where the underground caves cut into the hillside provided ideal conditions for nurturing and producing sparkling wine. Further information can be found on the website of Château de la Grave, where the Bassereau family first began producing this unique Bordeaux bubbly, and where the output of "
Poliane brut
" continues to uphold the local tradition.
[Find it]
**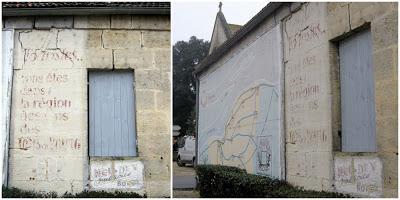 Staying in Bourg, this large-scale hand-painted map is accompanied by a message which directly addresses those who are passing through: "
Touristes... vous êtes dans la région des vins des Côtes de Bourg
" (Tourists... you are in the Côtes de Bourg wine region). The credit for the sign painters (Nel-Dey publicité Bordx?) is arguably more visible today than the remainder of the message!
[Find it]
**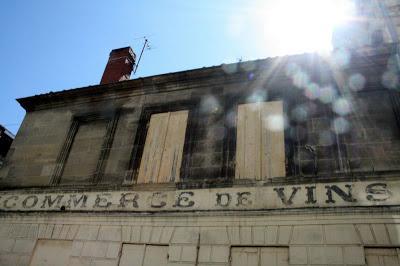 And while we're on the subject of wine, here are traces of the elegant signage above what used to be a wine trader in Bordeaux, on Rue Goya. This former commercial unit also appears to have lost a window over the course of time. It's not always this sunny, by the way.
[Find it]
**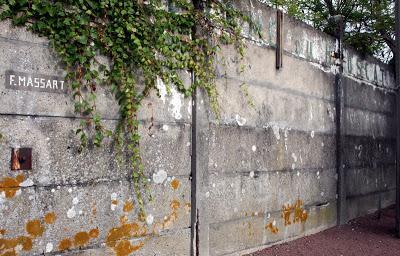 This painted sign announcing "
Hippodrome du Bouscat
" runs along the top of one of the perimeter walls of the
Bordeaux-Le Bouscat racecourse
. The letters, painted green on white, are gradually peeling away. What is more, they are also having to contend with the onslaught of some vociferous ivy. There is a bit of mystery about this one though: why is the name "F. Massart" embedded, mosaic-like fashion, in the wall? F. Massart, if you're reading this, please get in touch!
[Find it]
** Avenue de la Libération is the main street that runs through Le Bouscat, and is set for a makeover in the coming years with the construction of the
all-new line D of the tram network
. Some of the exposed walls still sport the logos of yesteryear such as this star-shaped symbol of Caltex, the petroleum arm of the Chevron corporation. Although still present in some parts of the world, the brand Caltex (originally a contraction of California Texas Oil Company) has now been superseded by Chevron itself.
[Find it]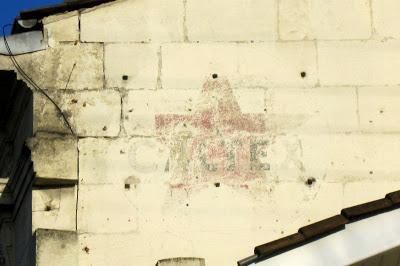 This second find on Avenue de la Libération is another case of adverts painted at different periods now tussling for space. On the left half of the wall is an ad for the wine-based apéritif Dubonnet (
as discussed in a previous collection of ghost signs
), while to the right we may (or may not) be looking at the R and H of a Byrhh logo... advertising a rival wine-based apéritif (as also discussed in a previous item).
[Find it]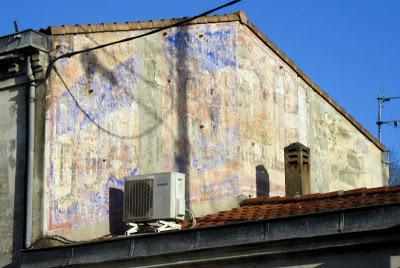 **
This more recent advert on Cours de la Martinique provides another opportunity to cross-reference with a previous item as it promotes "
Meubles Bayle
", the furniture outlet founded in Bordeaux in 1854 that went on to become a complex of different shops on Cours d'Albret and continues to live on as
Le Village du Meuble
in Mérignac.
[Find it]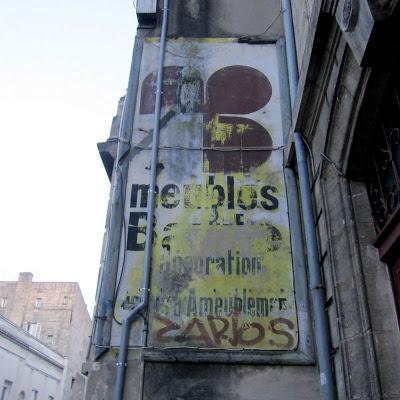 **This jaunt finishes up in Saint-Loubès and the wall of this house which promotes a neighbouring tree nursery. The six-digit phone number is particularly charming... and there's a fair chance that the painted letters and numbers pre-date the first-floor window, which has cancelled out a substantial part of the name and trade description!
[Find it]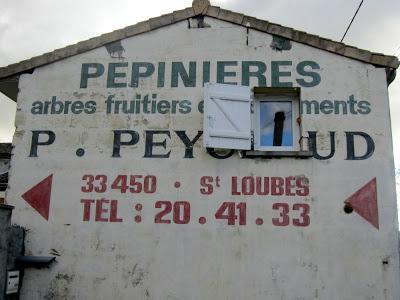 Other Invisible Bordeaux ghost sign features here, here and here.