Gharwali Diwali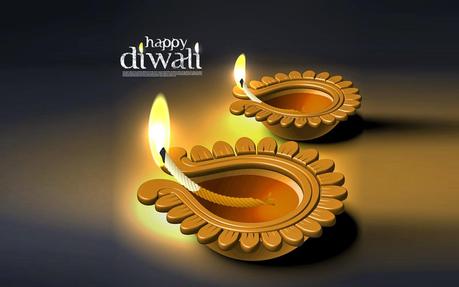 image source here
We always understands importance of things when we are devoid of them whether they are humans, some things or some festivals, we only understands value of somethings in our lives when we don't have the opportunity to feel them as we were feeling them in the past. Post my father's dad we realized how futile festivals are without guests in home without the usual hullabaloo. We have a lot of guests in our house on Eid and Diwali due to my father's friendly nature. He could easily mix up with anybody irrespective of their ages. He was a child among children, full of energy when with young people, a scholar among intellectuals, a worker among staff and so on. I still remember how people crowded our house with gifts and wishes when he was alive. Neighbors, family friends, staff and even local MLA visited our house. We make sure that we should not go anywhere during Diwali holidays and for that reason we have missed several weddings and other parties from our relatives on the day of Diwali.
After his death we haven't experienced any such festivities on Diwali. It is not that we are not social but I and my brother are not as charismatic as he was. We have guests and friends for Diwali even now but not like in those times. The first Diwali after my father's death was a silent one for us with no lighting and decorations, even our neighbors decided to celebrate it quietly for him. We lived in a locality where both Hindus and Muslims lived together and that too in a family like environment celebrating each other's festivals, such gesture by our neighbors was remarkable and worth appreciating. That's what make India a special country and not that political discussions to identify individuals on basis of religion. They visited our home with sweets and gifts since we were not celebrating the festival like earlier years. They cheered us and made that Diwali special for us.
I can't imagine a without Gharwali Diwali and with ghar I don't only mean my family and house but without our extended family in our neighbors who are more than any relative for us. Being a Muslim, the most important festival to us is Eid-ul-fitr but being reared in composite culture Diwali also holds a very important place in my heart. I remembered my childhood days when our group of friends used to burst crackers till late at night but after increase in pollution level in Delhi we all pledged to 'say no to crackers' and never bought crackers since then. We started concentrated our Diwali more in distributing sweets, sharing Pepsi with kurkure gift packs, meeting old friends and making Diwali happy for the underprivileged.  I have written few lines to summarize Gharwali Diwali,
Mahsoos karo wo saath jo de kadam-kadam khushhali, 
Wo jhappi jo le ude thakan-chuban duniyawali,
Meethi ho saans, na gham ho pass, ho nazron mein chamak matwali,
Aisi ummed hai kare wahi jo manaye, Gharwali Diwali.
(Feel the togetherness which brings happiness at every step,An embrace that took away pain and sufferings of world,Sweet breath, without any sorrows and having shining eyes,One who celebrated 'Home Diwali' desires such things )
This post is written for Pepsi India's
Gharwali Diwali
in association with
Indiblogger
.
Here is the video of Pepsi Gharwali Diwali , Happy Diwali to all, may all get to celebrate #GharwaliDiwali