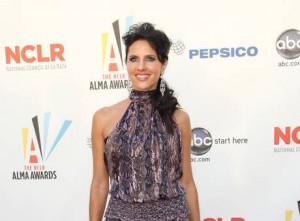 The True Blood cast has several new faces this season with witches, shifters, and vampires galore.  One of the newest witches to join the cast is Paola Turbay who will be playing Antonia, a witch from the 17th century who will be causing a lot of trouble.  For those of you who have seen Episode 2, you may have caught a glimpse of Turbay during the scene where Marnie was cursing Eric.  The screen flickered back and forth between Fiona Shaw and Turbay just briefly.  USMagazine has posted a list of 5 Things You Don't Know about Paola Turbay and we have them here for you. 
1.  She's already well prepared for her close-up – after being named Miss Columbia in 1991, she went on to become the first runner up in the Miss Universe pageant in 1992.  She appeared in a series of telenovelas and Columbian television shows before making her debut in the United States on CBS' 'Cane'.
2.  Her lips are sealed – much to our dismay, the cast and crew of True Blood are experts at keeping spoilers to themseves and Turbay is no exception.  When asked by Wetpaint.com for information about her character she replied:
"You know what, I can't say anything!  The only thing I can say is that she's a witch from the 17th century, so she's around creating terrible situations. Her presence is really going to put the show on fire."
3.  In addition to playing a TV mom on 'The Secret Life of the American Teenager', Turbay has two kids of her own.  She has been married to Alejandro Estrada since 1994 and they have a daughter named Sofia and a son named Emilio.  In her household everyone speaks Spanish and they have dinner together every evening to talk about their day.
4.  She has appeared in commercials for a number of products including Colgate toothpaste, Pepsi, Gillette, Maybelline and more.
5.  Antonia is not the first role she auditioned for on True Blood.  Two seasons ago she went out for a part to appear as a vampire who interacted with Alexander Skarsgard (Eric Northman) but the timing did not work out and the role went to another actress.  She was called a second time and went in the next day to audition for Alan Ball and the casting director, and three hours later the part was hers.
We are definitely looking forward to seeing the trouble that Antonia stirs up during Season 4 of True Blood.  Be sure to tune in Sunday nights at 9:00pm EST on HBO to keep up with all the exciting developments in Bon Temps.
Source:  USWeekly.com – 5 Things You Don't Know About True Blood's Paola Turbay
Photo Credit:  Getty Images