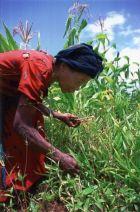 Image: www.snvworld.org
While development aid has increased from US $37 billion in 1960 to US $128 billion in 2010, money that should be eradicating poverty is often wasted due to poor coordination and mismanagement between donors and developing countries. Development actors, however, are trying to address this problem. In 2005, over 100 donors and developing countries agreed to make aid more effective with the signing of the Paris Declaration. Yet, a recent survey conducted by the OECD DAC (Development Assistance Committee) reveals there hasn't been much progress. In fact, it shows a sobering outcome: only 1 out of the 13 measured targets from the Declaration has been met within the last 6 years.
Given that the traditional development assistance model doesn't always work, alternative methods to strengthen developing economies are needed. One way is leveraging the role multinational companies can play. Recently I attended a talk where SABMiller, a global brewing and bottling company, explained the benefits of local sourcing: how it makes businesses more efficient, and also makes a positive impact in local communities.
SABMiller operations in Africa cut down on costs by substituting imported barley with local crops. Partnering with local farmers and NGOs, breweries in Uganda identified that beer made with domestic sorghum is affordable and attracts stable demand among consumers from all income levels. Similarly in South Sudan, SABMiller is developing a beer made with cassava, a popular subsistence crop, and is launching the product soon.
Companies are also working directly with governments. PepsiCo decided to locally grow ingredients for its products and is now collaborating with the Ministry of Agriculture of China to produce high-quality vegetables and fruits. In addition to ensuring supply and quality, their partnership aims to improve farming techniques and raise living standards for farmers throughout China.
Multinational food and beverage companies are demonstrating that being locally-conscious is not only good for business, but also contributes to sustainable development. As the development industry moves away from simply handing over aid money, innovative thinking for development from different actors must be welcomed – and the business community is undeniably one of them.