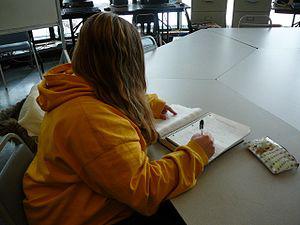 Image via Wikipedia
Are you currently learning French language and you honestly don't know your core reason why you learned it?
If you're just learning French language just because someone pushes you to do so or because you have no other choice but to learn it due to your school's requirement, I would ask you to change your motivations because I'm sure, you will not fully comprehend what you're learning for. Remember that you'll be spending time, money, and effort upon learning French; so if you're just so passive thinking that after your learning, its done deal, think again.
You don't want to invest on something that results to nothing, right? Well, let me tell you that French language learning to language schools is an investment, so you have to make the most of it. If you fully understand how French can do in your life, you will definitely take this opportunity seriously.
We all know that French is one of the top famous foreign languages around the world. You might not want to take heed of this fact, but let me tell you, you should. Since it is one of the recognized languages internationally, it also means that French is the official language among 33 countries around the world. Imagine how advantageous it is when you are fluent with French language, you can get to travel or employ abroad in these numerous French-speaking countries. Besides, it is the mother tongue of more than 70 million people across the globe. Surely, you also wanted to communicate and be communicated properly by this huge number of people, right? So your decisions to take French language lessons seriously are worth spending money, time, and energy for.
Do you know that your knowledge in French language can provide you the opportunity to work in international business and agencies? You can also include tourism and hospitality industries, diplomatic services, and French research institutes in your lists. Moreover, you can also be an interpreter or a teacher by someone who needs such learning.
So never underestimate your potential as a person who learn French language. This learning can bring to a whole new different level. You must also be grateful that you are given the privilege to learn French at language schools. Not all learners are given such opportunity.