I am deeply confused by how Americans use political tags--in particular how they abuse the term Socialist.  Seriously people, this Spanish Socialist Party shows what happens when you vote socialist:
Unfortunately,
the ad was attacked by pretty much everyone in Spain
. On the other hand, it does catch your imagination and beats the type of political ads one typically sees: especially US attack ads.
According to Bill Wharton, co-chair of the Socialist Party USA,Sarah Plain was far more of a Socialist than Barack Obama since she raised taxes on the big oil companies, and sent the revenue to the people.
Nothing Barack Obama has done comes remotely close to socialism, not even Obamacare.  Somehow the fact that Romney introduced a similar plan is lost on the right.
Next we come to climate change which is up for demonisation on loads of fronts, yet the UK Conservative Party (You know, the Party that produced Margaret Thatcher) has Policy on Climate Change as part of their platform: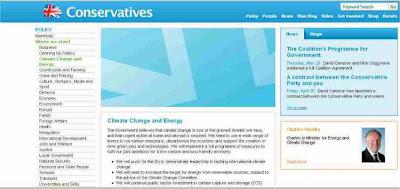 Climate Change and Energy
The Government believes that climate change is one of the gravest threats we face, and that urgent action at home and abroad is required. We need to use a wide range of levers to cut carbon emissions, decarbonise the economy and support the creation of new green jobs and technologies. We will implement a full programme of measures to fulfill our joint ambitions for a low carbon and eco-friendly economy.
* We will push for the EU to demonstrate leadership in tackling international climate change.
* We will seek to increase the target for energy from renewable sources, subject to the advice of the Climate Change Committee.
* We will continue public sector investment in carbon capture and storage (CCS) technology for four coal-fired power stations.
* We will establish a smart grid and roll out smart meters.
* We will create a green investment bank.
* We will retain energy performance certificates while scrapping HIPs.
* We will establish an emissions performance standard that will prevent coal-fired power stations being built unless they are equipped with sufficient carbon capture and storage.
* We will cancel the third runway at Heathrow and refuse permission for additional runways at Gatwick and Stansted.
* Through our 'Green Deal', we will encourage home energy efficiency improvements paid for by savings from energy bills.
* We will reform energy markets to deliver security of supply and investment in low carbon energy, and ensure fair competition.
* We will give an Annual Energy Statement to Parliament to set strategic energy policy and guide investment.
* We will work towards an ambitious global climate deal that will limit emissions and explore the creation of new international sources of funding for the purpose of climate change adaptation and mitigation.
We can also get into conservatives who supported gun control--the most famous being Richard Nixon who said  when 
journalist William Safire asked Richard Nixon what he thought about gun control in 1969. "Guns are an abomination," Nixon replied. According to Safire, Nixon went on to confess that, "Free from fear of gun owners' retaliation at the polls, he favored making handguns illegal and requiring licenses for hunting rifles."
It was President George Bush, Sr. who banned the import of "assault weapons" in 1989, and promoted the view that Americans should only be allowed to own weapons suitable for "sporting purposes."
It was Governor Ronald Reagan of California who signed the Mulford Act in 1967, "prohibiting the carrying of firearms on one's person or in a vehicle, in any public place or on any public street." The law was aimed at stopping the Black Panthers, but affected all gun owners.
Twenty-four years later, Reagan was still pushing gun control. "I support the Brady Bill," he said in a March 28, 1991 speech, "and I urge the Congress to enact it without further delay."
One of the most aggressive gun control advocates today is Republican mayor Rudolph Giuliani of New York City, whose administration sued 26 gun manufacturers in June 2000, and whose police commissioner, Howard Safir, proposed a nationwide plan for gun licensing, complete with yearly "safety" inspections.
Another Republican, New York State Governor George Pataki, on August 10, 2000, signed into law what The New York Times called "the nation's strictest gun controls," a radical program mandating trigger locks, background checks at gun shows and "ballistic fingerprinting" of guns sold in the state. It also raised the legal age to buy a handgun to 21 and banned "assault weapons," the sale or possession of which would now be punishable by seven years in prison.
So, why does conservative usually apply to people who are batshit crazy in the USA these days?
After all, Socialism is much more fulfilling!