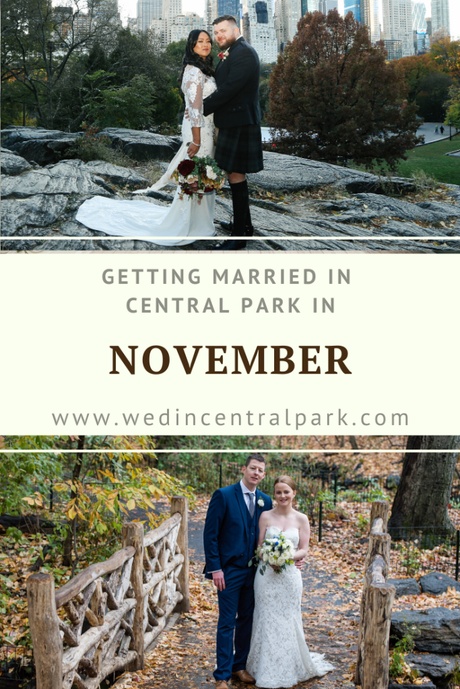 If you are in Central Park during November there is no mistaking that the season is Fall.  There will be leaves covering many of the lawns and walkways.  Some trees will still have a covering of orange, yellow and brown leaves, but the majority of those leaves will fall as we go through the month of November.  It is starting to get cold in November, but we still see plenty of weddings in Central Park during this month. 
It can be quite chilly in New York at the end of Autumn but during November we still see some lovely crisp, bright and clear days.  Of course the likelihood of bad weather and rain increases as the month goes on.  If you like the Fall colors, this is the month for you!  One couple who married in November were concerned about the possibility of rain so got married underneath the cover of Bethesda Terrace, but they were able to capture lovely photos around the park among the fallen leaves.  Central Park, other NYC parks, and many of tree-lined avenues are quite striking in the Fall, with so many lovely colors in the leaves, and some stunning bare trees surrounding the skyline.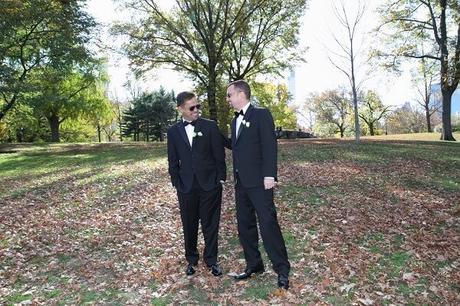 Keep in mind that the sun sets earlier during the these colder months.  Some couples may want to make the most of that and take photos as the sun goes down, and some couples may want to make the most of the light (and November does see many crisp, bright days) and get married in the middle of the day.  One couple who married in the Conservatory Gardens on the 1st November captured a rainbow in a nearby fountain, so the sun can be bright!
The couple must pick up their marriage license in advance of their wedding.  They must have it at least 24 hours in advance of the ceremony.  The City Clerk's Office is closed on Thanksgiving, which is a huge holiday in the US, observed on the last Thursday in November.  So, keep that in mind when making travel plans.  A big event that takes place in November is the New York Marathon.  This couple were in town for the groom to run it, and they decided to get married while they were in town!
Think about what to wear if you're getting married outdoors in New York in November.  If you're wearing a dress, think about what you might wear under it.  There's a good chance of the ground being wet in November, so think about that when choosing shoes.  This bride arrived at her wedding with a little rain, so carried an umbrella, but it had stopped raining by the time the ceremony was over and they went around the park taking photos.