Couple one alluring island with serenity and unparalleled golf and what do you have? St. Lucia, one of the most charming sport resorts you will ever visit.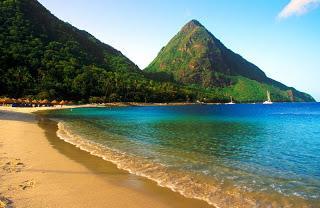 Nestled in the Eastern Caribbean Sea just south of Martinique, St. Lucia has earned its reputation as an all-inclusive haven for romantics who want to experience the exotic temptation of drive-through volcanoes, magnificent waterfalls and fantastic sandy beaches.

Golf lovers look forward to taking on eighteen holes at the 

St. Lucia Golf Resort and Country Club which overlooks both the Atlantic Ocean and the Caribbean Sea. Writer Tim McDonald stated about the golf course that there are "sloping fairways and greens to make you wish you hadn't had that last rum punch at closing time last night."
You can also play a challenging nine holes at Sandals Regency La Toc Golf Resort and Spa. Both offer interesting layouts and stunning vistas and add to the fun while on vacation.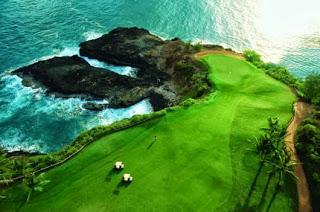 After viewing the natural beauty out on the golf course, why not try a refreshing, 'aahhh' moment at a spa so you will be ready to take on the sights of this sparkling island oasis.
A drive along the one main road which encircles St. Lucia "reaches dizzying heights" according to Fodor's Travel Guide but the sights you will encounter along the route will make the trip well worth the effort.
A few attractions which you should not miss are the Public Market in Castries, delightful for people-watching and, navigating along the twisty East Coast Road, the Rain Forest is a "must-see" for nature lovers. The Aerial Tram Adventure will provide a safe birds-eye view of the lush scenery.
Rodney Bay is the trendy hot spot for restaurants and night life and you will get a kick out of the "jump-ups", street parties filled with reggae revelry and the freshest of seafood.
St. Lucia is a great vacation destination in which to rejuvenate the senses, decompress from the everyday and improve your outlook on life.
Have you vacationed in St. Lucia? Voice your opinion on Twitter @Golf4Beginners and in the comments section of our Golf for Beginners blog.


Credit: Cruise-dude.com, International Property Directory