If you're new here, you may want to subscribe to my RSS feed. Thanks for visiting!

Oh how naive I was back in the day where I counted down to back to school time.  The more kids of mine who started going to school the more hectic things began to get when school started.
Don't get me wrong, there are pluses and minuses to both school days and summer time.  By about a month into the summer I'm often looking for ways to keep the kids from ripping each others heads off.  Lets face it, absence really does make the heart grow fonder.  So between the lazy throw caution to the wind days of the summer and just the constant in your face of all of the kids they tend to get on each others nerves.  Which in turn rattles me.
So school does start to look good until I begin to think about the multiple different schedules and the homework.  Oh the fights over homework and grades; that has got to be my least favorite thing about the kids in school.  But I do like having a schedule in place again.  Or I should say a more set schedule.  And of course the kids do tend to be a little nicer to each other.
Our schedule this year is full.  With three kids in three different schools with one of them in a school a good half an hour away my days are mostly spent dropping off and picking someone up.  But then when you factor in the fact that we are a one car family and my husband has to work it gets very interesting.  Then when after school activities are thrown into the mix it gets to the point where cooking dinner can be an after thought.
My Daily Routine
Let me give you an example of how things look one day this week.
5:52 a.m. – Middle daughter has to be at her bus stop over a mile from our house, so I drive her there.
6:10 a.m. – Arrive back home where I workout with my oldest daughter.
6:40 a.m. – Bring my husband to work.  Teenager will remain home finishing getting ready and getting her little brother and sister up and shoes on to meet me when I get back.
7:10 a.m. (or sometime hopefully close to that time) – Arrive back home to pick up the rest of the kids and bring oldest daughter to school.
7:15 a.m. – Drop daughter off at school.
7:20 a.m. – Get the two little ones to get dressed for the day while I prepare their breakfast.
7:45 a.m. – Eat breakfast.
8:00 a.m. (hopefully) – In the bathroom to wash up, brush teeth, and brush hair.
8:15 a.m. – Check backpack to make sure all papers are in folder, snack is in there, and get coats and shoes on everyone.
8:25 a.m. – Out the door for the bus stop.
8:32 a.m. – Bus should arrive.
8:40 a.m. – Finally get to take a bit of a breather.  Usually catch up on emails, get to some laundry, pick up stuff from the morning rush.
9:00 a.m. – Play with the toddler.  Just kind of hang around and take care of whatever needs to be done around the house with my little household helper until her big brother gets home.
12:15 p.m. -  Son gets off bus.  Time for lunch.
1:00 p.m. – Dentist appointment for the two little ones.
3:25 p.m. – Drop my son off back at the school for his wrestling clinic.
3:30 p.m. (or there about) – Pick up hubby from work.
3:45 p.m. – Pick up middle daughter from her bus stop.
4:00 p.m. – Go to my son's school to watch his take down tournament.
5:00 p.m. – Finally home and time to start cooking dinner.
6:00 p.m. – Eat.
6:30 p.m. – Homework with my son.  The two oldest at least don't need much assistance here most of the time.
7:00 p.m. – Begin bed time routine of baths, teeth brushing, and stories for the two youngest.
8:00 p.m. – Little ones in bed.
9:00 p.m. – 10:00 p.m. – The two oldest get sent to bed sometime within here.  My oldest might stay up with us as late as 10:00.
11:00 p.m. – I usually try to get myself to bed sometime around this time.
So as you can see it's a long and crazy day that gets especially hectic right before dinner.  In a few weeks when  my middle daughter's extended day begins for three days a week she likely won't be getting home until after 5:00.  I do not have time for the 5:00 what's for dinner question.  I need to know what we're having already.  If it's something that might require a lot of prep, then I have the time in the morning before my son gets home from school to do it.  This is why my menu plan is so important to me though and why especially during the school year without it I might completely lose it.  Either that or I would be wasting a lot of money on TV dinners or eating out and who can afford to do that most nights?
On days where I spend most of the afternoon out of the house running back and forth for doctor's appointments and pick ups though I definitely appreciate a meal that's quick and easy to make, but it needs to taste good too and be something the whole family will enjoy.
Products like Pillsbury can be a huge help in making things a little easier and tastier.  I had never thought to use things like their canned biscuits in meals other than as a side.  But when I was given an opportunity to try them out I was also given a bunch of recipes I could try.  I must admit it was difficult to choose which one to go with first because they all sounded so yummy, but I decided to try the pepperoni pizza bake.
I was even able to prepare this while in the middle of a work shift.  My husband took it out of the oven for me, but it was really very simple to make.  Just cut up the biscuits into little pieces and place them in a bowl like so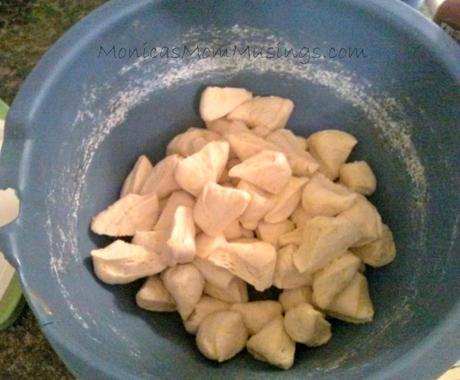 Then just toss in the sauce and mix it all up and spread in an oven safe dish where you add the pepperoni and the cheese and put it in the oven.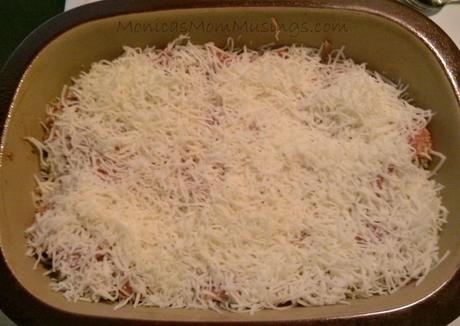 All ready for the oven.
And here's the end results…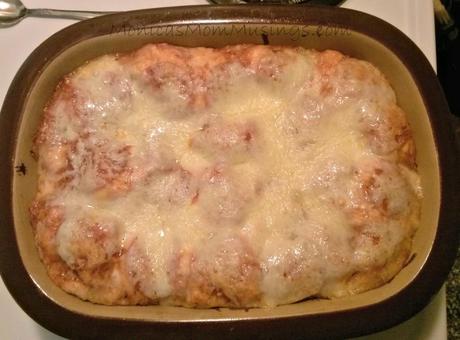 One of my biggest disappointments about most of these dishes is the lack of vegetables.  We had salad with this.  I easily could have added some peppers in with the sauce and tossed it together or maybe some olives though.  I chose not to because not everyone in my family likes that stuff and we would normally just have salad with pizza anyways.
Some of the other choices were lacking in the vegetable department as well though.  But this was simple enough to do.  I think it could have used more time in the oven.  I probably would have left it in the oven longer, but my husband was in charge of determining the brownness of it.  Everyone enjoyed it though and with how simple it is to do on those nights where we're running to and fro this, I can see on the menu again.
It's always fun finding new ways to use different products.  My husband was not expecting this when I told him what I was making, but ultimately I think he was pleasantly surprised with it.
You can download your own Pillsbury recipe booklet.  Please, let me know which recipe you are most excited to try.  And when you do try one come back and tell me about it, or if you altered it and how it came out.  I want to see more vegetables added to some of these.  Because lets face it, part of having an easy dinner is when everything gets cooked together.  While it's not terribly hard to cook up some frozen vegetables, I definitely appreciate those one pot meals on super busy days, how about you?
I was selected for this opportunity as a member of Clever Girls Collective. The content and opinions expressed here are all my own and are not indicative of the opinions or positions of General Mills. Compensation was provided by General Mills via Clever Girls Collective.