via ssgmarkcr
 

I came upon this article which seems to illustrate very well the folly of passing laws which legislate the legality of something based on appearance.  I really haven't paid much attention to what the law mandates since I cant ever see myself visiting the state, but this seems to pass muster legally though has no real effect on the function of the weapon.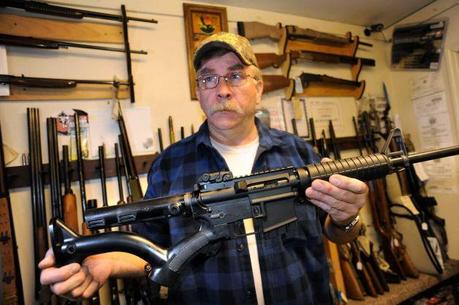 Shop owner Rich Sehlmeyer holds an AR-15 assault-style rifle with a compliant stock on Saturday, May 25, 2013, at The Gun Shop in Lake Luzerne, N.Y. (Cindy Schultz / Times Union)
The Times Union
It might be the most divisive element of Gov. Andrew Cuomo's NY SAFE Act: an expanded ban on what the administration terms "assault-style" weapons, such as the Vietnam-era AR-15s that are wildly popular with gun enthusiasts.
But the ban is proving to be less than total. Gun dealers, with the help of machine shops and gunsmiths, are on the cusp of offering what they call NY SAFE-compliant AR-15s and other military-style rifles.
Prototypes for the new rifles have been on display at gun shops from western New York to the Adirondacks in recent weeks. And now a lawyer representing one shop says he has gotten what amounts to an OK from the state, in the form of a letter from a State Police lawyer confirming that AR-15-style guns should be legal as long as they lack the characteristics prohibited by the law.
"It's basically an AR-15 without the features," said James Tresmond, a western New York lawyer representing H&H Firearms, a Lackawanna gun shop that's seeking to sell such a rifle.
"People are champing at the bit" for the modified rifle, said Justin Reickart, who with his wife operates H&H.
He aims to offer an AR-15-style rifle with the pistol grip permanently removed, and without banned accessories such as a folding stock, a flash suppressor or a bayonet lug.