Getting from one place to another can be enough of a stress but I have found that getting around China has never been easier! From boarding my first experience on one of China's High Speed trains to then taking my first Xiamen Air flight from Wuhan to Chongqing, I reached my destinations without any delay. I will delve in to see how China travels by rail, air and sea!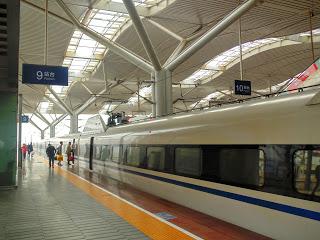 Since living in China I have been a regular passenger on China's High Speed train network, taking my very first journey from Suzhou North to Hankou, Wuhan I was amazed by the shear speed these new trains reach! Solely owned and managed by the Chinese government means the ticket prices never fluctuate no matter what time I buy a ticket I always know the price. Switching things up I opted to take the G77 China High Speed Bullet service from Wuhan Railway Station to Shenzhen North in order to cross the border into Hong Kong for my 2016 Spring Festival trip, that four hour train journey only set me back £62! Taking a High Speed train within China is an experience by itself, I always take great care to arrive to the airport terminal like railway stations with enough time because everything gets so hectic! From Suzhou North and beyond I don't see my ridership on this form of transport slowing down at all! She's supersonic!
Broken into five categories China's railways stand as a mass of different services and frequencies, I am yet to take a Z sleeper train but with a trip to Lhasa, Tibet on the cards I will have the chance then. Hurtling down the track at speeds of 200 mph are the G Bullet services and the D High Speed services, with certain speed increases being implemented in the coming months. In December 2016 I will be taking a K Slower Long Distance service from Kumning to Dali, then onto Lijiang before returning to Kunming, those Yunnan Province trains have only set me back less than £40 for the three tickets! I remember from Changsha South Railway Station to Wuhan Railway Station I treated myself to first class on a G Bullet service, the seats were more spacious than my experience flying Upper Class with a certain British airline. This form of modern rail is a game changer for sure, it will continue to allow me to see different places across China swiftly and for less! Zhengzhou East next!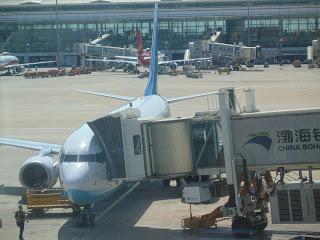 Whilst the train stands as the people's transport in China there's no denying that flying can always be great alternative compared to rail. I have flown a respectable number of times since my first Chinese domestic flight took me from Wuhan to Chongqing with Xiamen Air. So far I have traveled with three other Chinese airlines aside from Xiamen Air such as; China Eastern Airlines, China Southern Airlines and mostly recently I flew with Shandong Airlines to Guilin. Grabbing a cheap return ticket can be done but when those peak National Holidays come around it can be as hard as flying home for Christmas and the price tag certainly rinses my finances! I have already booked up with China Southern Airlines and Shandong Airlines for my upcoming October National Day holiday to Qingdao and Jinan because tickets are a premium during that time! Yes, I should really be looking out for 2017's Spring Festival flights!
My current local airport is Wuhan Tianhe International Airport, this provincial Hubei airport has so far served me well. The domestic terminal is impressive compared to the current international terminal but that's all about to change for a grand development is nearing completing. Wuhan's own airport will soon have a gargantuan new international terminal and a combined transportation center, finally Line 2 of the Wuhan Metro will have a new northern terminus station at the airport. Getting to the airport in Wuhan from my Hongshan District home means getting the metro from Optics Valley Square to Changgang Road, then I would take a sixty Yuan taxi from there along the Airport Expressway that would take over ninety minutes door to door! Other airport in cities like Xi'an are not currently connected to rapid mass transit, that made things very interesting during my 2016 New Year trip! Don't get me started on flights to England, that's a whole other story! Let's fly!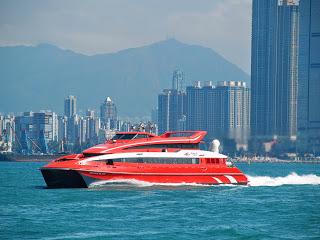 I'm not one for cruise ships or ferries but I trusted the Turbojet hydrofoil during my 2016 Spring Festival trip. I needed to cross the waters that separate Hong Kong and Macau in a speedy manner, boarding at Tsim Sha Tsui Ferry Terminal bright and early on the 5th of February 2016, it took me around fifty-five minutes to reach Macau's Outer Harbour Ferry Terminal. Entry and Exit procedures were seamless, making the choppy crossing from Hong Kong seem near perfect. The journey was super quick but the waters nearing the South China Sea weren't playing fair, I wanted to be back on firm ground quick snap! I can safely say that taking the Turbojet will be my only water crossing during my time here in China, I'm really not one for that mode of transport but when needs must I will make an allowance! Someone should really build a bridge?! Well, the Hong Kong-Zhuhai-Macau Bridge has almost been completed! 
It will be interesting to see what benefits this epic bridge will create for Hong Kong, Zhuhai and Macau but for any future crossing I would definitely choose the Turbojet to bridge the deep blue gap between HK and Macau. People say to me "Don't you find traveling in China difficult without knowing much Chinese?" To answer that question, I have never had a problem getting around China without speaking much Chinese because I have taken the care to familarise myself with the characters of the Chinese cities that I will be visiting! During my numerous China High Speed train journeys I haven't been fazed by the lack of English around the railway stations because I can understand what I need to know. With China being such a vast country I see my use of transport within the country increase considerably, I'm nervous yet excited for a potential forty-one hour Z sleeper service from Wuchang, Wuhan to Lhasa, Tibet! Travelling gives me life, so I shall continue traveling in China!
Tickets, Please! 
Joseph Harrison