Hi Huneybees,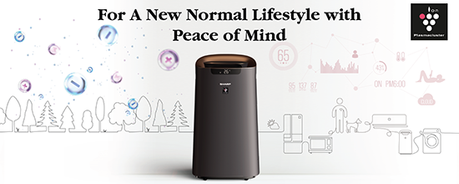 I've been busy revamping around the house, cleaning up our years of mess, refurnishing, and also making ways to keep the house clean and safe from the Covid virus. There are a few home appliances that I have listed on my shopping lists and an air purifier is definitely one that I want to get. 

There are so many different types out there and each one boasts of different functions, it can be quite a headache when it comes to the right selection. The new 
SHARP 4-in-1 L Series Plasmacluster™ Air purifiers - 
 KI-L80 and KI-L60 comes recommended and if you are looking for an air purifier, maybe you can consider them too.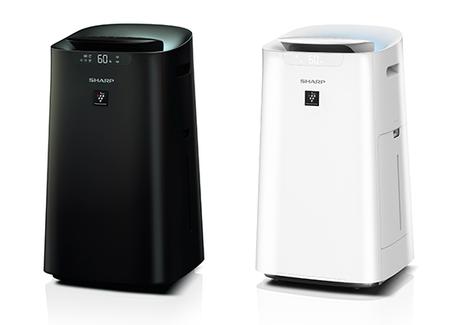 Launched just in time to keep families safe with their Plasmacluster Technology proven effective against Covid-19, t
he L Series functions as an air purifier, humidifier, airborne bacteria inactivator, and stand fan, so not only do they provide the freshest air for you, it can also help save some space around the house. 
Known for its unique combination of air treatment technologies which include Plasmacluster™, Triple Filtration System, and Humidification, SHARP's has become the top seller in its product category and is
Japan and ASEAN's No.1 Air Purifier Brand.
The L Series' 4 key functions:
1. World-Leading Plasmacluster™ Technology
Powered by SHARP's original Plasmacluster™ technology that uses positive and negative ions occurring in nature to purify air, it removes, collects and captures impurities ranging from mold and viruses to allergens, odors and static electricity for fresh, clean air for your home and family with a high density of 25,000 ions.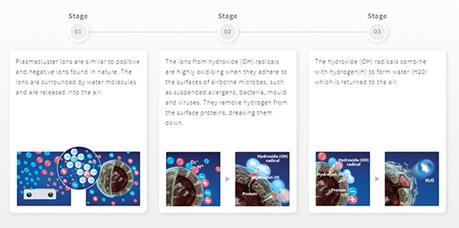 The Plasmacluster™ Ions function as air cleaning agents that form clusters around microparticles such as airborne mould, influenza viruses and mite allergens, and render them inactive through a chemical reaction. This revolutionary process is similar to nature's way of reversing pollution, which occurs at a much slower pace. Allowing for removal of odors from cigarette, pets, cooking and more. Beauty lovers will also be delighted to know that the Plasmacluster™ ions improve the skin's elasticity and texture, keeping the skin smooth and moist.
The Plasmacluster™ ions are also able to neutralize harmful VOCs and toxic gases while removing static electricity which traps dust particles and pollen, which are known to trigger allergies and cause short to long-term respiratory illnesses. Other than providing purer indoor air to users, the air purifiers have proven to be able to alleviate allergy symptoms and potential complications from being exposed to harmful air for a long time.
2. Purifying
SHARP KI-L80 air purifier comes with aTriple Filtration System,consisting of the following filters: New Pre-Filter, Double Deodorizing Filter and Electrostatic HEPA Filter.
New Pre-Filter: This filter captures PM10 harmful coarse, airborne particles. It is washable and is effective in keeping large dust particles and dog hair at bay. These particles, if exposed regularly, may irritate the respiratory tract such as throat, trachea, and bronchia. 
Double Deodorizing Filter: This filter uses an active carbon filter to neutralize unpleasant odors such as cigarette smoke, harmful gases in haze, pet odour, or common household odors.
Electrostatic HEPA Filter: This filter eliminates the threat of even the smallest floating particles (PM2.5) and up to 99.97% particulate matter including bacteria, airborne allergens or mold spores.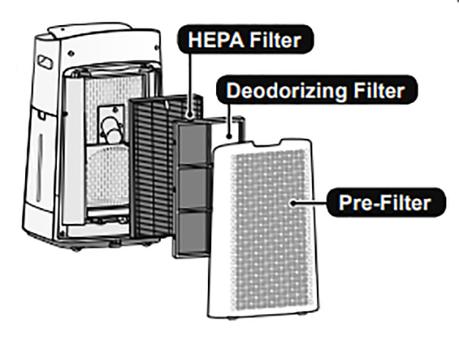 3.Humidifying
Apart from safeguarding your well-being at home, the Plasmacluster™ technology also improves humidity levels to reduce virus transmission while controlling lingering odours, leaving the home safer and the air, cleaner. This is achieved with a rotating humidifying mechanism that remains free of water immersion and dried with ventilation when not performing humidifying, thus keeping the filter disc clean while preventing mold.
Doubling on its deodorising feature is a high-performance double filter added with activated carbon and inorganic solvent, both working to absorb moisture volumes by an approximate three times of regular filters. Synthetic enzymes and chemical solvents enables decomposition of odour sources into small components, which are then absorbed by the activated charcoal. 
Everything is also contained within a portable water tank that is small enough to be carried with one hand for easy cleaning and convenient water supply. Its self-standing feature prevents tipping over when refilling and its large diameter cap enable thorough cleaning for its insides.
4.Turbo Fan
Use it anytime and anywhere in your home, the L series air purifier doubles up as a fan with a powerful 498m3/h and 408 m3/h air flow for the KI-L80 and KI-L60 respectively.
Additionally, thanks to the SHARP AIoT feature, an AI feature exclusive to the brand can track your habits to learn when to turn up, down or off your devices and prompts you accordingly. The KI-L80 air purifier comes with exclusive SHARP smart control functions allow users to easily control and monitor the air purifiers via SHARP Smart Remote App on their smartphones. Users can easily monitor their air quality and kickstart automatic operations based on the air quality levels through four key factors: temperature, humidity, dust and particulate matter levels. They will also notifications when the indoor air quality turns from dirty to clean. Through the Filter Function Monitor, users will easily know when their air purifiers are due for filter exchange.
The L Series comes in two models - KI-L80 which effectively covers up to 62m2, and KI-L60 which covers 50m2 and are priced at S$1,699 and S$1,399 respectively and available on Sharp's official Shopee and Lazada stores and authorised retailers stores.

You can find more information here:- SHARP: https://sg.sharp/ - SHARP's Air Purifiers: https://sg.sharp/products/air-care - Plasmacluster™ Technology: https://sg.sharp/plasmacluster-technology- The Effectiveness of Plasmacluster™: https://sg.sharp/pci/the-effectiveness-of-plasmacluster - KIL Series Technology: https://sg.sharp/air-purifier-KIL-series - KI-L80E-T Air Purifier: https://sg.sharp/products/air-care/ki-l80e-t?v=1467 - KI-L60E-W Air Purifier: https://sg.sharp/products/air-care/50m2-humidifying-air-purifier-ki-l60e-w?v=1468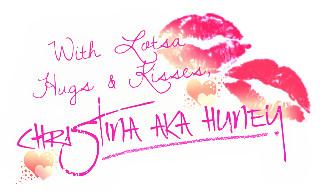 Do follow me on my social media for more daily updates...

Facebook page | 
Twitter | 
Instagra
m
http://www.huneyzworld.com