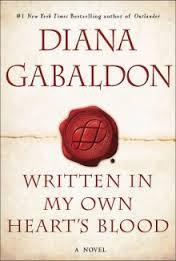 This is not a review exactly, since I don't like to write reviews mid-series. Instead I'm just going to gush.
Diana Gabaldon's books are amazing. They are so long and involved, you feel like you know these characters intimately.  She writes with a level of detail that makes you feel you're right there. It's the day to day stuff, not the big events, that make these characters real.
For those who haven't read the series, here are some big picture thoughts before I get to Book 8 (go pick up Outlander if you haven't already!).
This series is not for everyone, I know. These are long, detailed books and sometimes not much happens. And yes, there's violence, especially sexual violence. But it never feels gratuitous; it's more like yes, the odds are in this time period you're going to face some dangerous situations, and sometimes that means rape. So many books give their main characters kind of a pass… not Gabaldon.
If you've never read the Outlander series, I don't think of it as a romance, though there's plenty of that. For me it's the perfect blend of historical fiction, time travel, adventure, and romance. Claire and Jamie are two of my favorite fictional characters ever.
Yes, these books could use some editing. It's also hard to keep track of what the hell is happening in these books when you have to wait five years. I'm not sure why she doesn't break her books up into smaller chunks, since it's not like each one has a definite timeline. Each one sort of ends in a random spot and then picks up there in the next book. I find I have to go back and reread a big chunk of the last book just to know what's happening.
I'll admit that Gabaldon's books can sometimes be hit or miss, which is tough considering each one takes about five years to write and a long time to read. But one thing about Gabaldon is this: for the books I didn't like so much, she always comes back with a great one. For example, I was not a huge fan of Book 3, Voyager. It felt like two books – the first half is amazing, then the second half is kind of a disappointing mess. But then Book 4, Drums of Autumn, is wonderful. Similarly, I disliked Book 5, The Fiery Cross, but Book 6, A Breath of Snow and Ashes, was one of her best.
And so it goes. You wait and you wait, and then finally Gabaldon's latest book comes out, and you open it up and it feels – strangely – like you're somehow home again. Like Claire and Jamie and Ian and Brianna are your family, and you're reminded of how much you missed them. And it doesn't matter if a lot happens or a little, because all you really want to do is sit around a fire with these people and listen to them talk.
Does that sound really weird? Probably. It's still the best way I can describe these books. There's nothing out there like them. I've looked.
My husband asked me why I haven't read Gabaldon's other works (various novellas and the Lord John series), considering how big a fan I am and how long I wait for these books to come out. I can't really answer that, except that maybe a book without Claire and Jamie in it just doesn't seem worth reading. I don't know, has anyone read the Lord John books and care to comment?
So, on to Written In My Own Heart's Blood (IMOHB for short).
IMOHB is Book 8 in the series. I can't tell you much about it without spoiling earlier books. It's not action-packed, although there's one big battle and a lot of smaller ones. Jamie, John, William and Ian run around a lot and get captured and wounded, and Claire doctors everyone (thankfully another doctor is introduced so she doesn't have to do everything).   There's a wedding, there's time travel, and there's a lot of gruesome medical scenes I didn't need so much, although if you're particularly interested in late 1700's medicine, these are the books for you. I got queasy visiting a Civil War medical museum in our area, and this was worse.
I can say that IMOHB felt satisfying, much more than the last book. (Part of me hasn't forgiven Gabaldon for the stunt she pulled in the last book, which I won't describe here.) It made me happy to read it. I didn't care what happened, I just wanted to have these characters back for a little while.
What doesn't work as well in this book is there are too many younger characters, and with the exception of Ian, none of them are as interesting or likeable as Claire, Jamie, and Brianna. William is selfish and annoying, and Rachel and Denzell are a little too perfect. Gabaldon may be ready to hand this series over to the next generation of characters, but I'm not.
Is it the best in the series?  No.  But it's Claire and Jamie and Brianna and Roger and Ian and Revolutionary War America and time travel and Scotland.  And that's enough for me.
I have LOTS to say on the subject of the new Outlander series, but I'll save that as I've already written too much. It premieres in the U.S. on August 9!  Also check out Gabaldon's blog for all the latest news and a really interesting post on how she wrote Outlander 26 years ago.