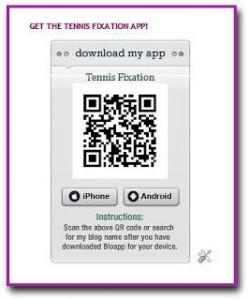 I have been working hard on redesigning all aspects of Tennis Fixation.  One of the things I've recently updated is the Tennis Fixation app.  It's completely free and here's a  post-from-the-past explaining exactly how you can get it:
Want Tennis Fixation on your mobile device? Well, there's finally an app for that!
Not too long ago, I placed the Tennis Fixation app (shown in this photo) in the right sidebar of this blog. If you go over there and scroll down a little, you'll find it. You might not have previously noticed it and I didn't really "announce" it until now because, frankly, I wasn't 100% sure what I was even doing – acting like I knew how to develop an app? including a QR code? really?
But I found a great way to do it using a website called Bloapp. And, after fooling around with it for a week or so, I finally felt confident enough to go public and post it here. So – TA DA! – there's now a Tennis Fixation app!
You can get the Tennis Fixation app two ways – (1) scan the QR code in the photo or in the side bar (that's the weird square bar code thingy) with any QR scanning app you have on your device (there are a bunch of free QR scanning apps), or (2) download the Bloapp app to your device and then search for Tennis Fixation and add it to your Bloapp dashboard. If you go with the second option, you'll not only be able to access Tennis Fixation, but you'll find tons of other blogs on all kinds of topics.
If you give this a try, please comment and let me know what you think – was it easy to get the app? Which option did you use – scan the QR code or download Bloapp? Is the mobile version of Tennis Fixation easy to read or do you prefer seeing it on your computer? I'd love to hear from you!

© Kim Selzman 2013 All Rights Reserved