Disclosure: I received product for review purposes.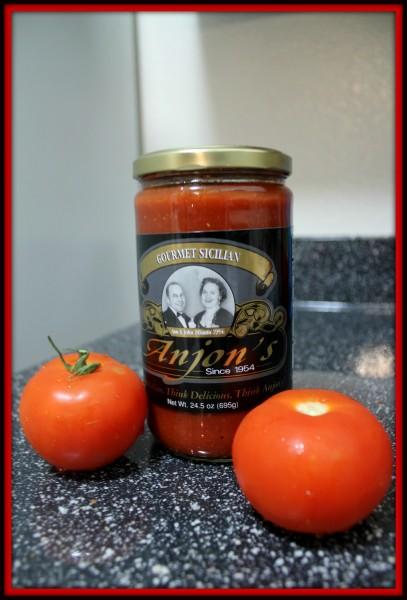 A few weeks ago I was introduced to Anjon's pasta sauce.  Of course, because it was brand new to me, I had to try it right away.
Anjon's Story:
The year was 1954. Ann and John DiSanto (hence the "Anjon's") worked hard and saved enough money to buy an old fried seafood shack on Route 1 in Scarborough, Maine. Using their life savings to purchase this property – both had to go back to work for another three years in order to save enough to purchase the equipment needed to open. In 1957, their dream became reality and Anjon's opened for business. Word of mouth advertising was all it took to make Ann's restaurant one of the most popular spots in Scarborough. Today, the DiSanto family has continued the Anjon's legacy – and even though Ann and John have passed – their memory and tradition lives on in each meal.
And it is true that their legacy continues with their pasta sauces.  Coming in different varieties such as Vodka, Tomato Sauce, Lobster, Marinara, Puttanesca, and Sicilian.
So, I put them to the test: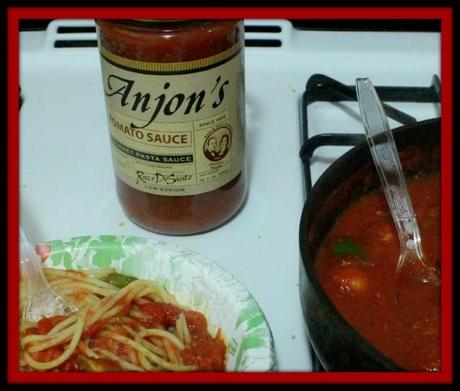 On night one I decided to do a simple spaghetti.  I sauteed up some green peppers and tomatoes together with a little olive oil for about 15 minutes then added the sauce to it.  Cooked that up for another 10 to 15 minutes and enjoyed the meal.  We were very happy with the way the sauced tasted.
Then last night I decided I wanted to make a homemade pizza with their Gourmet Tomato Sauce: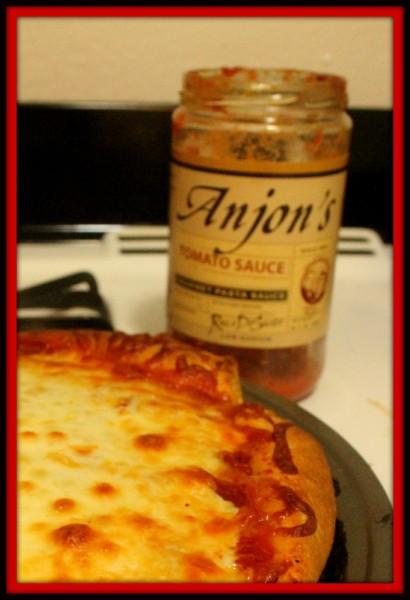 I kept it very simple with just a Pepperoni and Cheese Pizza.  I really wanted to taste the flavors of the tomato sauce to get a good idea as to how it tasted.  It was a win, and the pizza was demolished instantly.
The one thing I love about Pasta Sauces is that, for me, the sauces are just a base for the creation you're about to make with them.  Don't feel like you have to just buy the sauce and not add anything to them.  With both recipes above I took the jar of pasta and created something from them.  They're met to be savored.
I really liked these sauces and felt they gave a very distinct flavor that was very different from other sauces out on the market.  I could taste the freshness of the tomatoes within the sauces, and liked that a lot.
So, are you excited about trying these?  You can purchase them directly online from Anjon's webpage.  They come in packs of 3, 6, 9 and 12.
If anything, what do I have you craving now?