{by} Sasha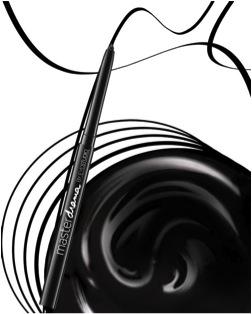 This week's beauty obsession is Maybelline's Eye Studio Master Drama Cream Eye Pencil (that's a mouthful). This creamy liner glides on perfectly, and like its long title, is long lasting. In my not-so-humble opinion it's comparable to expensive department store brands for less than half the cost. I'm a bit of an eyeliner snob and have found the cheaper the liner, the more it tends to run or not last (I hate it when my liner pulls a Houdini and disappears after a couple of hours). To my makeup-loving surprise, this liner compares to its more expensive kin.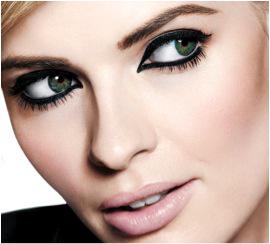 Maybelline model wearing Midnight Master
Maybelline touts their liner as the next generation of liner, and with it's long list of perks I'm inclined to agree. It's oil-free formula holds a high pigment concentration ensuring long-lasting color. To boot, this lush liner is waterproof and smudgeproof (have I died and gone to eye liner heaven?).
This lavish liner comes in a multitude of colors including Vibrant Violet, Made Of Steel, Coal Commander, Bold Brown, Midnight Master, and Sapphire Strength. So, pick a color, ladies, and go sport your steal-of-a-deal makeup addition…