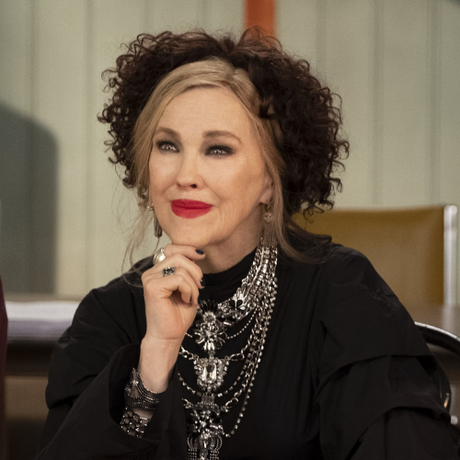 The incomparable Moira Rose; the sass, that accent, the looks! Schitt's Creek wrapped up its final season this year and many of us will miss the Rose family and their oddly endearing eccentricities. This blog is to focus on Moira specifically because her looks were just so good.
When we were introduced to Moira Rose in season one, everything about her just seemed so over the top. Once we got to know and love her, it was all just a part of her charm. Most days her looks were hyper-stylized works of art in black and white, screaming inaccessibility. Topped by dramatic and ever-changing wigs, transforming her like the performer she claimed to be. Regardless of how elitist she came across, within a season, we were here for it.
THE STAR BEHIND THE SPARKLE
Catherine O'Hara, who portrayed Moira Rose, reported that they'd taken inspiration from English socialite and fashion designer Daphne Guinness. Series creator, Dan Levy, and costume designer Debra Hanson worked with Catherine to create the fashionista's overall style. Ms. O'Hara also admitted that Moira's fabulous fashion and accessories began to influence her own fashion off-camera as well. Dan Levy also masterfully played Moira's son, David he had a decadent style all his own as well.
Moira's jewelry was overstated and demanded attention, much like the woman herself. Her necklace styles included stacks and stacks of pearls, thick chunky chains, and many bib necklaces to name a few. The earrings she wore, when visible were showstoppers. Her delicate fingers were adorned with many varying rings of all sizes. Bracelets, brooches, and more added to her finalized looks. She was even seen to add a brooch to a layered pajama look for bed. She had it all, and she knew how to use it.
Moira and the entirety of the Rose family will be missed from the current media offerings. They managed to start out as egregiously over the top and finish out proving that in their own way they were a loving family just doing the best they knew how to. No matter how dysfunctional they were, they looked fabulous doing it!
IN THE PRESS
From the Los Angeles Times: Dan Levy also credited O'Hara with both Moira's look and the vibrant and collegial experience. 'I can't pinpoint what exactly it is about Catherine that makes literally anything from a wig worn backward to a complicated, high-fashion piece from Raf Simons work," he says. "Fittings with Catherine were always fun because we could really experiment, and the weirder things got, the better she looked. We had this saying during her costume fittings that when it comes to Moira Rose, more is more. Too much is never enough. I'll miss those mornings.'"
Thank you, Catherine O' Hara for Moira and all that came with her.
GET THE LOOK
What is your favorite Moira Rose look? Let us know by clicking on the Comments button below.
Written by Kayti Kawachi