Fresh off a wicker roundup in the Boston Globe (I can't believe they didn't go with my "Wickah Smaht" headline) and following up on yesterday's 18 Rooms with Round Jute Rugs, I've pulled together a collection of round jute rugs (or hemp, or other natural fibers), most of them lacey.
These round jute rugs are intricate but rough, with a ton of tactile appeal. They're great for entry halls and beach houses or other high traffic situations, or just to add a layer of texture in a neutral room. You can also hang a swirly jute rug on the wall, above a sofa, a bookshelf, or a bed as large, easy, and affordable adornment.
I'm kind of in love with number 3, the fantastical Heenalu jute rug (yes, I realize that one's not a round jute rug, but I had to include it). Number 8 is fun too, though probably a bit on the boho side for me. Number 7 from Serena & Lily is neat and tidy, and Number 14 comes with a fluorescent pink border too, though I'm not sure if they ship to the States.
Temps have been above 40 in Boston, so I figure it's time to start thinking about summer decor. I think straw, sisal, wicker, rattan, jute, hemp, and the like can have a place if used sparingly and originally. We can start by checking out round jute rugs.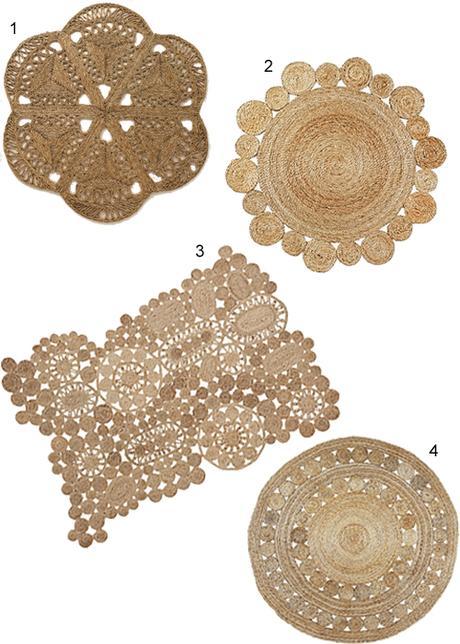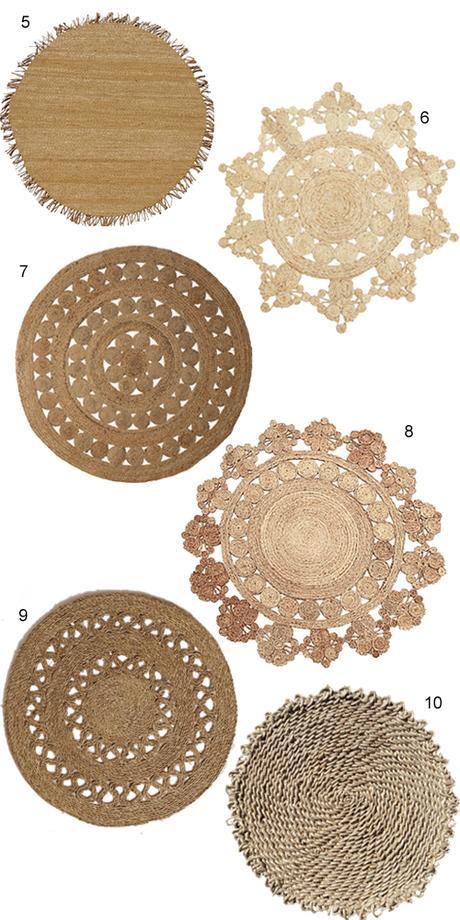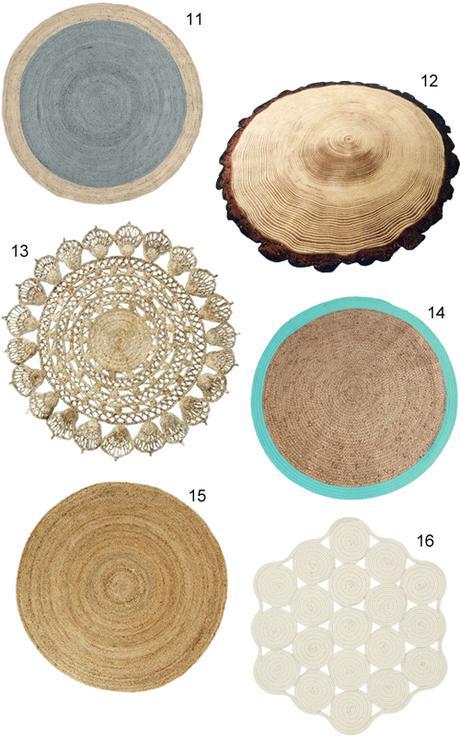 S H O P P I N G
1 Foldable Seagrass Matting, $26.99 at World Market.
2 Daisy Weave Hemp Rug by Armadillo & Co., $250 at Garde.
3 Heenalu Jute Rug, $299 at CB2.
4 Dandelion Weave Hemp Rug by Armadillo & Co., $595 at Garde.
5 Jute Area Rug by Acura Rugs, $124.99 at Wayfair.
6 Kennis Jute Rug, $149.95 at Pier1.
7 Round Jute Rug, starting at $125 at Serena & Lily.
8 Marigold Weave Hemp Rug by Armadillo & Co., $650 at Garde.
9 Round Seagrass Matting, $8.99 at World Market.
10 Round Natural Fiber Jute Hand Crocheted Rug, $54.99 on eBay.
11 Color Bordered Round Jute Rug, $249 at West Elm.
12 Woody Wood Rug by Yvette Laduk, €399 at FEST Amsterdam.
13 Lacey Natural Fiber Floor Mat, $24.95 at H&M.
14 Handwoven Round Hemp Rug With Colored Border by HK Living.
15 Kerala Natural Round Jute Rug by Anji Mountain, $67.99 at Wayfair.
16 Habeland Braided Crochet Rug by Hable Construction at Capel Rugs.