The July/August issue of Design New England just dropped, complete with a feature I wrote about Boston area interior designer Heather Vaughan's beach house. It's a tall, cedar shingle structure with a huge wrap around porch fronting the ocean on an isthmus in Scituate, where families tend to keep their houses rather than flip them. Vaughan happened to be attending a wedding next door and knew her search for a summer home was over.
Vaughan used lots of bright color in her new summer home, from flea market sideboards repainted chartreuse to consignment shop armchairs re-upholstered in teal velvet, to orange drapery fabric she first used for a teenage client, to vibrant artwork purchased in both galleries and junk shops.
As a beach house should, Vaughan's summer house has plenty of bedrooms, and she had a ton of fun decorating them. Each room has a quirky headboard, be it a chinoiserie concoction from Serena & Lily, or a vintage find from a funky shop in Palm Beach. (This summer I'm also working on a story about a home with the most fantastic Indian-inspired bed too.)
Inspired by Vaughan's summer house headboards, here are a dozen boho headboards, with roots in Art Nouveau England, '60s Palm Beach, and ancient Southeast Asia. Shop StyleCarrot sponsors and others for boho headboards, both vintage headboards and new styles for your bedroom.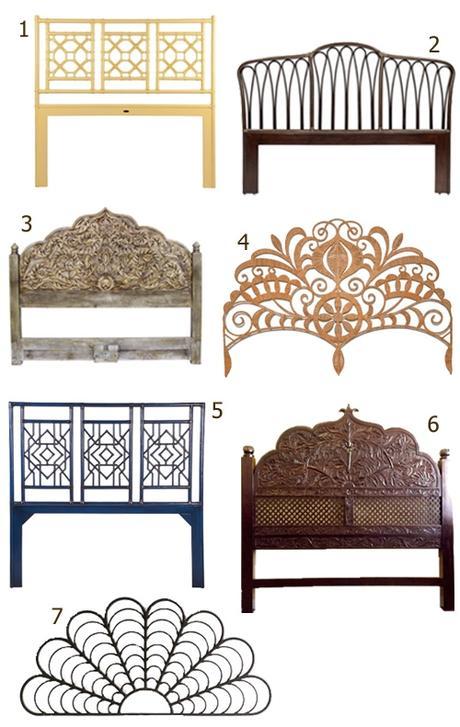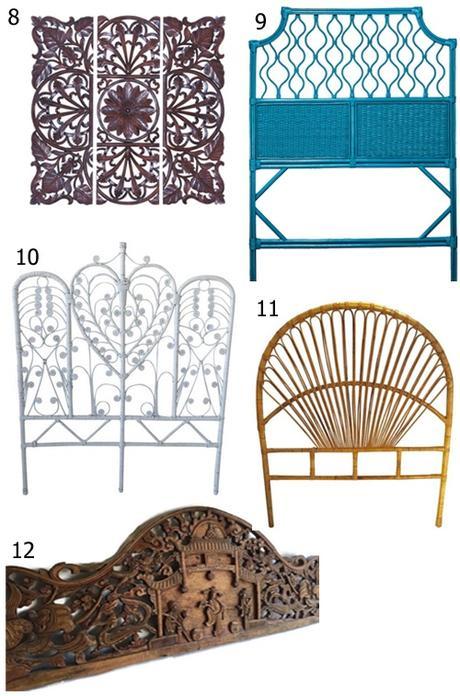 S H O P P I N G

3 Jarokha Arched Carved Headboard
4 King IronHeadboard
5 Tulum Wood and Rattan Headboard  
6 Crafted Lattice Headboard  
7 Lulu Black Rattan Headboard 
8 Benzara Wooden Wall Plaques 
9 Boho Orani Headboard
10 Vintage White Rattan Headboard 
11 Vintage Boho Chic Bamboo Headboard 
12 1940s Chinese Carved Wall Plaque