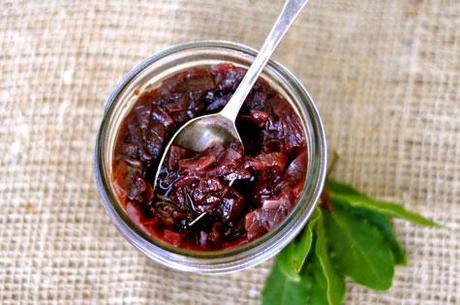 National Vegetarian Week will soon be upon us so what better time to try out some meat-free meals. To celebrate all things vegetarian, Very Lazy and The English Provender Co. have come up with some veggie-friendly recipes that will please friends and family and let those meat-eaters in on what they're missing.
Taking place from Monday 19th to Sunday 25th May National Vegetarian Week is a chance to try out some new dishes and experiment with some fantastic flavours. With the help of Very Lazy and The English Provender Company why not cook up some tempting recipes as part of healthy meat-free lifestyle.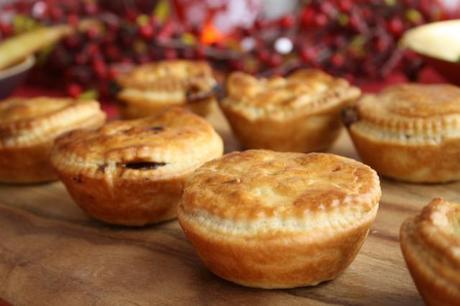 *Mushroom, Chestnut, Stilton and Cranberry Pies*
Makes 8 pies 
Printable Recipe
A delicious seasonal vegetarian pie. 
30g butter
 (2 TBS)
 250g field or chestnut mushrooms, sliced
 (generous half pound)
 1 tsp Very Lazy chili (optional)
 1 tsp Very Lazy garlic
 1 tbsp finely chopped fresh rosemary
 3 tbsp English Provender wild cranberry sauce
 70g stilton, crumbled
 (Generous half cup)
 100g chestnuts, crumbled
 (1 cup)
 375g ready rolled shortcrust pastry
 (1/2 pound)
 1 medium free-range egg yolk, beaten  
Preheat the oven to 200*C/4))*F/ gas mark 6.  

Melt the butter in a frying pan. Fry the mushrooms over a high heat until soft. Add the garlic and chili and cook for another 40 seconds.  Place in a mixing bowl and stir in the rosemary, wild cranberry, stilton and chestnuts. 

Cut out 8  (4-inch) circles from the pastry and place in a muffin tin. Place 2 tbsp of filling into each pastry case. Cut out 8  (3 1/2 inch) circles and press these lids onto the pies. Brush with egg, then cut small steam holes in the lids. 

Bake for 15-20 minutes, until golden.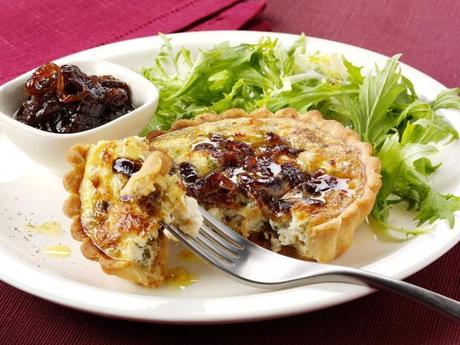 *Caramelized Red Onion and Feta Tartlettes*
Serves 4  
Printable Recipe
Crisp pastry tartlettes filled with tangy cheese and sweet caramelized red onions.  300g ready roll shortcrust pastry (about 10 ounces plain pastry)flour to dust3 large free range eggs, beaten2 TBS chopped fresh flat leaf parsley200g feta cheese crumbled (7 ounces)200g jar of very lazy caramelized red onions (about 1 cup)sea salt and freshly ground black pepper to tasteDivide the pastry into four pieces and roll out on a lightly floured surface to a circle the size of a side plate.   Take four individual tartlet cases and line each with the pastry, carefully pushing the pastry into the base and up over the sides. Trim the edges neatly. Prick the base of each tartlet and line with a disk of greaseproof paper and a few baking beans or dry rice chill for 20 minutes.   Pre heat the oven to 220 *C, 425* F. Gas 7. Bake for 5 minutes.  Remove the cases from the oven, carefully lift out the paper and beans and return the cases to the oven for a further 5 minutes. Remove the cases from the oven.  In a bowl, mix together the eggs, parsley and cheese. Season well. Spoon a little caramelised onion into the cases and top with the cheese mixture. Spoon a little more caramelised onion on top and bake at 180 C, 350 F, Gas 4. For 15 minutes or until the filling has just set and is a golden color.  Spoon the remaining caramelised onions into four small dishes and place on serving plates. Remove the cooked tartlets from the oven, lift out of the cases and serve on a bed of mixed salad leaves, drizzled with a little oil and seasoned with black pepper.  Serve with a few salad leaves and olive oil to drizzle.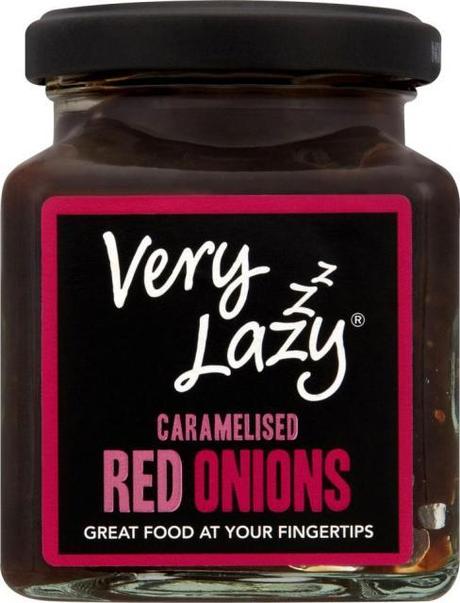 Forget hours of gentle simmering, our Very Lazy Caramelised Red Onions allow you five more minutes leisure time. As featured in Delia's - How to Cheat at Cooking!   RRP £1.79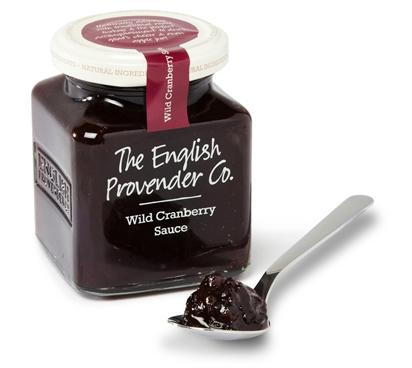 Naturally delicious with traditional roast
turkey
and the perfect accompaniment to duck, goat's cheese and even apple pie.  RRP £1.89
For more information and more recipes do check out
English Provender
.