This post contains affiliate links which means I receive a commission if you make a purchase using the links in this post.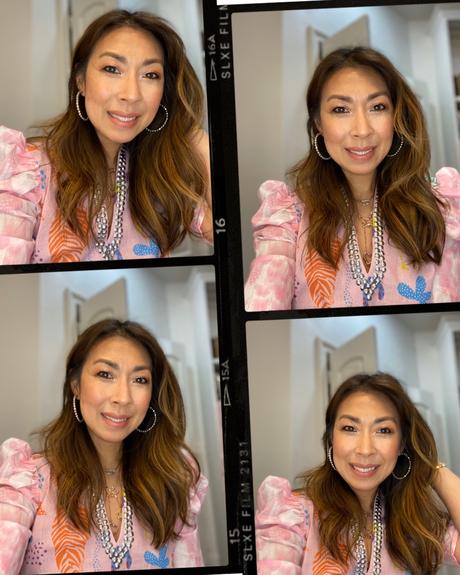 Happy Week Y'all! I don't even know what day it is anymore! LOL! Now more than ever, I CLING to my morning makeup routine for some normalcy. Even though we aren't leaving the house, I do my makeup and get dressed for MYSELF. It makes me happy, and I believe in the motto, "Dress for how you WANT to feel"! Anyhow, I've wanted to share my clean beauty everyday makeup routine forever but never found time to do it until now! Lately, I've been recording myself getting ready in the morning and editing in my "spare time"! LOL!
THE BEAUTY Rx: Keep a daily routine to keep your sanity! Get up, get dressed, and show up!
SKIN
I do my morning skincare routine which has been simplified to Goldfaden MD Bright Eyes, Augustinus Bader The Rich Cream, and plus/minus Saint Jane Facial oil (depending on how much time I have and skin texture). I will be doing an updated blog post of my morning skincare in the future.
For foundation, I use KOSAS tinted oil. They have a lot of skin color options, and I currently use No 6. You must shake it, and then it only takes a few drops. I warm it in my hands and then apply it all over like moisturizer! EASY!
Lately, W3LL PEOPLE concealer in LIGHT has been my go-to for under eyes/highlighting. I squeeze a pin-sized dot on the top of my hand and tap it onto my under eyes, eyelids, and then the center of my forehead, side and bridge of my nose, and under my chin. It contains caffeine to help with puffiness, and I love that it is flexible and doesn't seem to crease.
When I'm really tired, then JUICE BEAUTY concealer literally covers ANYTHING and I use that! You will see it soon in my "Get Glam with Me" makeup video!

Turn on your JavaScript to view content
EYES
KOSAS 10-second eye shadow has been my OBSESSION after discovering a metallic trio kit at Neiman Marcus. I use Copper Halo as the base and add Supreme (glittery gold) on my eyelids. I use both the bottom of my eyes with the Copper Halo on the outer half and Supreme on the inner half. Again, you have to shake it, and it's extremely liquid. You really do only have about 10-seconds to apply with your fingers so it takes a small bit of practice but not much! I love it because it is SO PIGMENTED and looks beautiful!
Then, I use ILIA eyeliner in black on the bottom outer third + waterline and add a winged cat-eye line on top with JUICE BEAUTY liquid liner.
My mascara routine has been changing a lot because my lashes are getting shorter or breaking even though I've been using VEGALASH religiously!!! I think that it's due to an increased intake of caffeine and decrease in sleep even though I'm trying my best! In this video, I tried a new technique and layered Ere Perez avocado waterproof mascara and then Thrive tubing mascara after using it with a Shiseido eyelash curler. The waterproof mascara holds the curl, and the tubing mascara adds volume.
To frame the eyes, I finish my eyebrows with Pacifica Hemp Fiber brow gel. It's a lifesaver when I'm in a hurry which happens to be the majority of the time. I use the edge of the bottle to wipe off excess and just brush through my brows. If anything is uneven, then I use a brow brush to go through it quickly.

Turn on your JavaScript to view content
BLUSH, BRONZER, & HIGHLIGHTER
The next part of contouring and highlighter make such a difference but can be a little tricky if you're not used to it! My BFFs laughed at me when we did makeup during our last Girls' Weekend. I miss them so much! Anyhow, you use CONTOURING to create a "darker space", and I apply RMS Madiera Bronzer on the corners of my forehead, sides of my nose bridge, and under the chin. HIGHLIGHTING is the opposite and reflects light or creates a "lighter space", and I apply Aether Beauty Pink Golden highlighter on the top of the brows, cheeks, bridge of the nose, and the cupid's bow of the lip. When you do both, it creates that illusion like you have amazing bone structure if you don't! LOL! Now, I know why Kim Kardashian was so crazy about it! By the way, here is a blog post on easy contouring if you need one! :)
If you don't have time for the highlighting/contouring, then just skip straight to blush!! I LOVE blush because it gives you that gorgeous fresh-faced look! In this video, I'm using AU NATURALE in grapefruit for blush and also on my lips. It's a pinky peach color that's easy to throw in a bag for touch-ups, and I love anything multiuse!

Turn on your JavaScript to view content
LIPS
My BFFs give me the hardest time about my lipstick because they said it takes at least 10 minutes! I've trimmed down since high school days, so here you go! I use RMS Beauty "nighttime nude" to line and then fill in my lips. Next, I use 100% Pure lipstick in Calendula. The last optional step is putting on the AU NATURALE in grapefruit to tie it all together!
If you are REALLY in a hurry, then multi sticks are AMAZING!! I've used AU NATURALE in grapefruit on my eyelids, cheeks, and lips for a 5-minute look and finished with mascara!

Turn on your JavaScript to view content
Here is the How-To Video!
I've done time stamps if you need to skip ahead! Apparently, I talk a lot when trying to explain how to do makeup! LOL! Hope you enjoy an inside look at my clean beauty everyday makeup routine! Let me know if you have any questions!
Foundation - 0:50
Concealer - 1:26
Eyeshadow - 2:55
Contouring - 4:41
Blush - 5:57
Bronzer - 6:35
Eyeliner - 7:00
Mascara - 9:00
Eyebrows - 11:04
Fixing Mistakes - 14:14
Lips - 15:35
You may notice that most of my beauty products and skincare comes from Neiman Marcus. I attended an Indie Beauty Expo Pop-Up at Neiman Marcus three years ago and discovered so many beauty brands that I now use and love as part of my clean beauty everyday makeup routine! Plus, I earn points towards a $100 gift card through the Incircle Program when using my Neiman Marcus card. AND I loved the free 2-day shipping (but that has changed since the Corona Virus). Just saying... they are a undiscovered clean beauty treasure trove! ;)
DO YOU STILL PUT ON MAKEUP EVERY DAY?!
It's literally the only thing keeping me sane (and prayer)!

Happy Quarantine Y'all!! How's it going? There are definitely a lot of ups and downs over here. Homeschooling and keep the kids in line have been the most challenging for me. I'm supposed to be teaching a 6-year-old who doesn't seem to want to learn. At the same time, my 3-year-old needs me for questions like, "Can I touch this?" during the designated school time. When I try to incorporate her into the learning, it's been distracting for my oldest. AAHHH!!! When they have a little free time, they've been mischievous. During the 10 minutes it took me to prepare lunch, they "peed in a box" in a room with carpet - which translated to... they peed on the carpet. Today, I happen to be writing this at the edge of sanity!!! LOL!!
On the opposite spectrum, it has truly been SO NICE to have a clear schedule (oops I missed the vet appointment for Franklin and had to reschedule) and spend more quality time with the kids. So that's been a big blessing. We should end on a positive note on perspective. Without the storm, there are no rainbows!!! WHAT ARE YOU GRATEFUL FOR TODAY?
Thank you so much for stopping by and supporting SOS!
CHECK OUT MY INSTAGRAM SHOP HERE TO SHOP ALL OF MY INSTAGRAM LOOKS!
// STAY CONNECTED //
stay glam, do good