A woman never says no to any kind of jewelry. In fact no one refuse and keep it as a precious gift. We always look for special gifts for special occasion and jewelry is always our choice, but having personalized jewellery, makes it unique. Now your search for gifting or having customized jewelry ends at Augrav.
About Augrav
Augrav (Au – Gold and Grav – engrave) as the name defines, it is a place where you will spot unique personalized jewelry that will hold a special place in your loved one's life. At Augrav they are keen to make each one of you special and unique in your own way with customized jewelry. Name the kind of jewelry right from rings, earrings, bangles, bracelets etc and how you want it to be personalized and they will be happy to serve you and provide a unique product. Augrav offers many unique products like name rings, fingerprint rings, voice wave rings and ECG wave rings. Based on the design request, they send the 3D model to the customer and, on approval, the product gets 3D printed and then carved to gold, silver, or diamond jewelry.
Why Augrav
Own your product with crazy customizations
BIS 100% Hallmark
Choose between 14k-18k-22k
Let your imagination run wild and create your own piece of jewelry at augrav.com. Who doesn't love to be unique? And when uniqueness spells LOVE and IDENTITY it is even more special. It is a gift that will be treasured by your loved ones and you as it's an engraved that will be etched for life. To know in details about their products or for any queries kindly visit their website.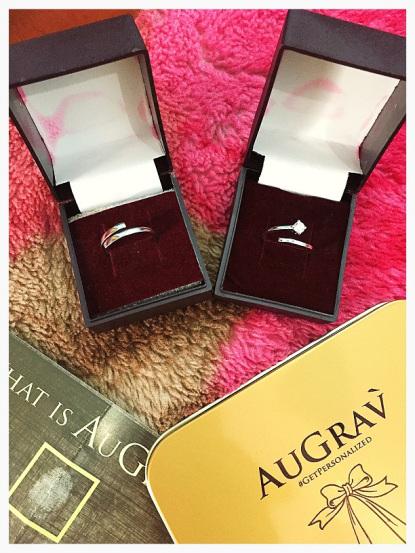 Lucky Me
As last month was dedicated to Love, I was fortunate to won a contest from Augrav and received the sterling silver couple rings as the prize. We were ecstatic to be awarded these alluring rings. It was safely packed with beautiful ring cover. As you can see, it is so attractive but still the picture is not justifying to its real sparkle. When you see in front, then you get to know its prettiness.
I am sure you loved this and if you too wish to own it, then try your luck and participate in their ongoing contest on Instagram which is till the end of month and get the chance of winning sterling silver couple rings worth Rs2999/-.
Good luck!