One of the scariest movies in my opinion, but let me assure you if my house started talking I would move. What does this have to do with bugs – "Spiders force family from upscale Missouri home"? Well this would have good enough for me to move out of my house, no questions.
At a civil trial in St. Charles County in October 2011, University of Kansas biology professor Jamel Sandidge – considered one of the nation's leading brown recluse researchers – estimated there were between 4,500 and 6,000 spiders in the home.
Did he just say 4500 to 600- spiders – OMG, luckily there is a Pest Management Professional in town.
"There'll be nothing alive in there after this," said Tim McCarthy, president of the company hired to fix the problem once and for all.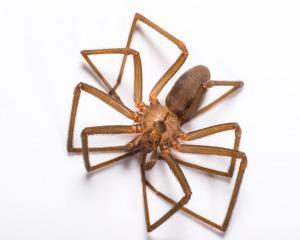 Brown recluse spider photo by PPMA