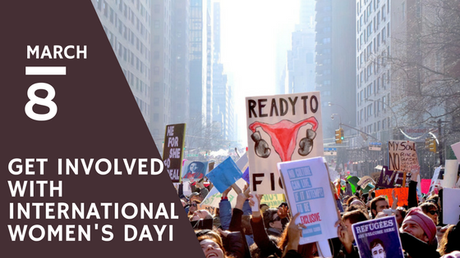 Globally, 1 in 3 women will be impacted by violence in their lifetimes. That's a scary statistic. For a family with two daughters, statistically speaking, either the mother or one of the two daughters will experience violence solely because she is a woman (rape, domestic violence, etc.). While a lot of progress for women's rights has been made, there is still a long way to go. It's important that we don't stop working toward the goal of making lives better for women everywhere. In honor of International Women's Day, here are some suggestions for ways you can get involved.
Attend an International Women's Day March
Many cities are hosting marches for International Women's Day. Plan on attending one in solidarity. The more people who turn up at these peaceful gatherings, the more our cause will be heard. It's important to have strength in numbers.
Learn About a Phenomenal Woman and Share Her Story with Others
There are many women out there who have done many great things. Take some time today to learn about some of these women and share their stories. By helping to increase awareness about the amazing things that women out there are doing, the odds they have overcome, and the difficulties they have broken free from, you can help to make a positive impact and inspire others.
Learn About U.N. Women and Work to Strengthen Their Cause
U.N Women is an organization that exists to help advance various areas that affect women – on their website, you can learn more about how they help with:
Leadership and political participation
Economic empowerment
Ending violence against women
Peace and security
Humanitarian action
Peace and security
Humanitarian action
Governance and national planning
Sustainable development agendas
HIV and AIDS
They also have multiple ways that you can get involved. Current campaigns include:
Planet 50-50 by 2030: Step It Up for Gender Equality – an initiative where women and girls have equal rights and opportunities by 2030.
HeForShe – This initiative invites both men and women to work together to create a movement toward gender equality.
UNiTE to End Violence against Women – This program increases awareness and puts pressure politically on ending all forms of violence against women and girls around the world
Other projects U.N. Women is working on include:
Empower Women – a global push for women's economic empowerment
iKNOW Politics – an online workspace dedicated to advancing women in politics
Make a Donation to a Favorite Organization that Aids Women's Causes
There are many notable women's organizations. Consider donating to one of the local organizations that help women or to a national (or international) organization dedicated to helping women. Doing so can help make a difference in the lives of others.
Join or Volunteer for a Local Organization Dedicated to Helping Women
If you have the time and inclination, you may want to join or volunteer for a local organization dedicated to helping women. Women's shelters, domestic violence organizations, women's entrepreneurship groups, women's voting advocacy groups, and others all could use the support of someone passionate and dedicated toward furthering women's rights and working toward equality.
What will you do on International Women's Day? What will you do to support women tomorrow, when it's no longer International Women's Day? Remember, we need consistent efforts year-round to make progress! Please share your thoughts with us in the comments!
Advertisements