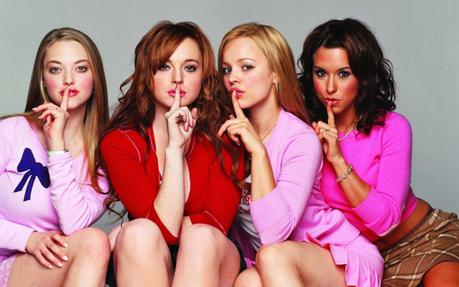 Image from http://www.tychosnose.com
On April 30, 2004, America's favorite movie about a clique of high school plastics was released. Starring Lindsay Lohan, Rachel McAdams, Lacey Chabert, and Amanda Seyfried, Mean Girls tells the story of Cady Herron (Lohan), a 16-year old who has just moved back to the United States with her parents and is thrust into the stereotypical high school setting that is stricken with cliques, social standards, drama, and the Queen of it all, Regina George (McAdams). However, an article written by Nadia Aror, author for GRAZIA, has revealed that this screenplay, written by Tina Fey, could soon find itself center stage on Broadway.
That's right, after writing and starring in the original movie, Fey, accompanied by her husband, Jeff Richmond, have planned for the production to debut as early as the end of summer. In an interview with Billboard, Richmond stated that, "We definitely want to see some kind of shape by the end of summer. With that in mind, we know that 60 or 70 percent of that will go away when we start bringing in real singers and actors." This is all very convincing due to the amount of work a production this size requires.
A great example of this is the production of WICKED which was directed by Joe Mantello with music and lyrics by Stephen Schwartz. The show took nearly three years to be staged before its introduction to the public. Shows like this must be written, and composed with sets built, multiple auditions and a cast chosen, and extensively rehearsed before opening night. For example, Idina Menzel was cast for the role of Elphaba in 2000, but the show did not open on Broadway until October 30, 2003. Also, in his article "10 Things You Didn't Know About 'Wicked,'" David Sheward, former executive editor and theater critic for Back Stage, The Actors' Resource and author of It's a Hit! The Back Stage Book of Broadway's Longest-Running Shows, writes about the extensive amount of work productions like this require when he states facts about WICKED.
"The electronics department uses enough power to supply approximately 12 homes, while the carpentry department has about 175,000 pounds of scenery to wrangle, which is automated by five miles of cable. In addition, about 250 pounds of dry ice has to be deployed to create the drama onstage." (Sheward)
These statements by Sheward only back up Richmond's claims that a stage production of Mean Girls – The Musical is solely dependent upon the team of people who are working on the production.
In regards to writing, composing, casting, and production, GRAZIA also reveals that the show is approximately 60 percent written and that Richmond has revealed there will be a song called the "Old Blonde Song" performed by the mother of Regina George (Aror). Fey also revealed in a 2014 interview with Vulture that the cast of this musical will not be embossed with previous musical stars like Amanda Seyfried who starred in the film productions of MAMA MIA and Les Misérables. Instead, Fey comments, "Hopefully we'll find a young person who, at this moment, is still in college, but will be making her way to New York as we write."
In closing, be on the look-out for Cady Heron on Broadway and remember, "We wear pink on Wednesdays."