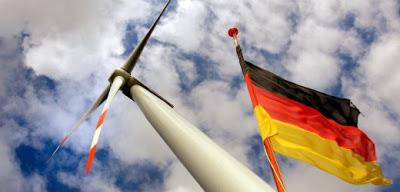 Here in the United States we use far more than our share of the world's energy, and we continue to use the dirty carbon dioxide producing fossil fuels to make most of that energy. Only a tiny part of the energy we produce comes from clean and renewable energy sources (like wind, tides, solar, etc.). We continue to buy into the argument that either those sources are too expensive to develop or they are unable to provide a significant part of our needs. I think the real truth is that the oil, gas, and coal companies have bought too many of our politicians.
While the United States continues to make excuses, Germany has bit the bullet and invested heavily in the new renewable energy technologies, and it is already paying off big for them. Here is part of the the German energy story, as reported in The Guardian:
Germany has reduced its greenhouse gas emissions significantly in recent years as it has pushed forward a renewable agenda leading Europe into an age of wind and solar power. 




In the past year, the country's CO2 emissions fell by 2.4% compared with 2010, according to figures released by Germany's Federal Environment Agency (UBA). The decrease, say experts, has largely come through a push towards renewable energy that has accelerated since the country began its move away from nuclear power. In the first six months of 2012, the amount of electricity produced using renewable energy rose from 20% to 25%, bringing the country closer to its targets of 35% by 2020 and 80% by 2050. "We are on a good track in regard to the increase in the share of renewables," said Brigitte Knopf, deputy head of research at the sustainable solutions project at the Potsdam Institute for Climate Impact Research (Pik). "This is a story of success, though some challenges are still ahead."
There are still problems, but the Germans are forging ahead to reach their goal, instead of whinging that it can't be done. If they can do this without hurting their industry or curtailing electric use by consumers, why can't the United States do the same?