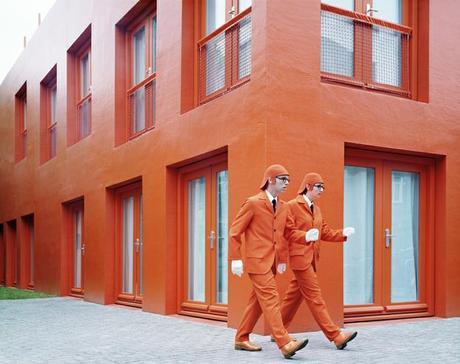 This work is in some respects (especially after his blunders in the title-decider against Dortmund) one of Jupp Heynckes's most attractive and accomplished scores—and it was Toni Kroos whose advice he sought as to a new interpretation of the ever-changing puzzle that is Mourinho's midfield. It's a type of move that requires a long time to digest. At first glance, it was an amusing experiment in mimicry: it matched Real Madrid and its 4—2—3—1 formation piece by piece with a group of instrumentalists who, like a good German schola cantorum, never relinquished their steadfastness of purpose. And if Khedira and Xabi Alonso are typically fielded as two cellos in a chamber ensemble, Kroos, as the playmaker who is primarily used for his energy to press but still creates a lot of open chances (a type already seen in Ramsey, Vidal and, to a lesser extent, in Boateng), was rather like a bassoon, at once idiosyncratic and indispensable. But if you care to penetrate into the prophetic and almost infra-semantic shapes of Bayern, the overall effect, flexible and rhythmic, went beyond mimicry—it was a statement made by the jostling and colliding of often dislocated syllabes, like in a composition of Pierre Boulez:
birds(here,inventing airU)singtwiligH(t'svvavas(vastness. 
Fraught with dangers, Frank Ribery is always found, in and out the pitch, at a crossroads. At times in which German might still be rudimentary, he still preserves his French sangfroid. Self-contained, in that splendid wing-isolation, his whole work is destined to last about an hour; but he understands that he's supposed to be the half-way point, the rocket-carrier on the platform. Ribery ist der Dichter. That sounded all right here: fate, providence, and the Frenchman had found the answer—so the title stood.
The rest of the match was Mourinho pushing his trequartista alternatively to the outside or the inside, defending the incomplete extension of this double fixture at home, or searching for a goal. It worked out once, when Bayern ended up squeezed like in one of those training procedures (a small group increased to the size of a full orchestra), and it did not matter that the end touch was rather sketchy. Unacceptable, perhaps, given the creative standards of Real Madrid. Incidentally, Mourinho in Spain has never gone deeply into the exploration of a textuality different from the current, heavily structured hierarchies of lead-players; his poetic expression will always win a fairly detailed appraisal, but because of Alonso's increasingly evident lack of form and the evocative dissociation it creates, Real Madrid is moving ambiguously between texture and sustained chords—the leaders taking control and the collaborative response of a choral initiative. ♦