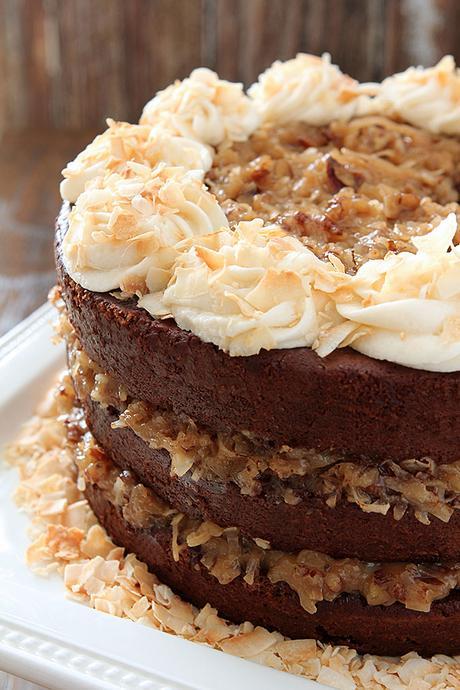 We're backkkkkk. It's Progressive Eats time and after a sabbatical over the Christmas season, our crew is ready to gather together and share some of our favorite recipes again. This month our group has been challenged by Lana with the blog Never Enough Thyme to take a trip down Memory Lane with a comfort food from our past. For me that one thing would have to be German Chocolate Cake; my first choice for a birthday cake since I was a young girl and certainly something that fits perfectly in the 'comfort food' family. I made the birthday cakes in our family and that included my own and I admit my efforts utilized a box cake mix with coordinated frosting. That was before icings were pre-made and packaged in cans; they used to be a blend of dry ingredients that you mixed with butter and milk and it made a decent enough frosting. But I've NEVER liked the stuff in a can; I'm just certain there is no butter in there but something hydrogenated or de-hydrogenated or whatever but I just don't like it. When the dry product was no more, I decided to do it the old fashioned way and went looking for a recipe for both the cake and the yummy frosting. I've made this in times past by simply following the recipe on the German's Sweet Chocolate Bar but this time around I wanted to change it up a bit and I'm betting it's no surprise to anyone that I would be adding a bit of booze. The resulting German Chocolate Cake with Rum Glaze and Buttercream is simply divine.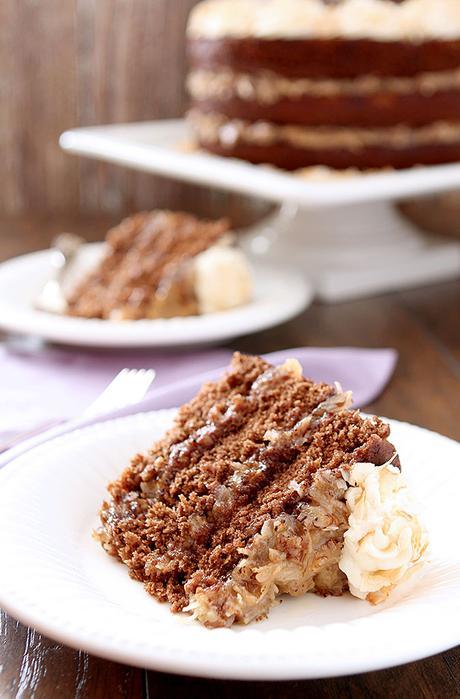 That first effort at locating a recipe was interesting; I suppose like many I had always assumed this cake was a tried and true confection brought to this country by German immigrants; you know, my people. To say the story was a surprise would be an understatement. Not so much German as simply a cake named after the chocolate bar used in a recipe that was created by an American baker. I had always associated lederhosen but bobby socks would have been more appropriate! Ah well...despite the letdown that it was not from the country of my great grandparents origin, I still loved the cake and German's Sweet Chocolate (now owned by Baker's) and that ingedient would remain...some things are sacred!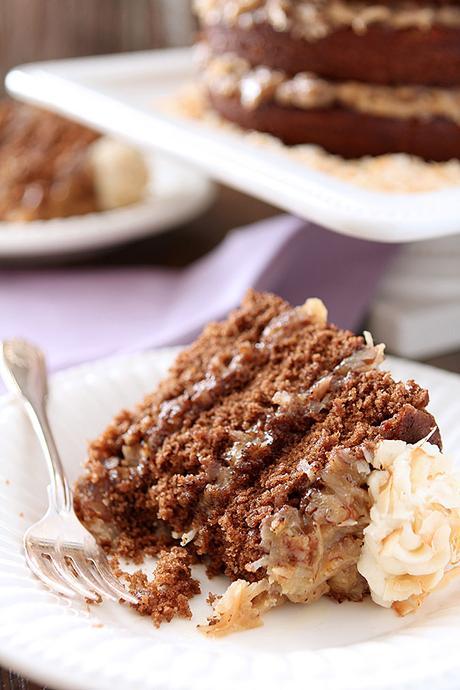 I mentioned I changed it up a bit and yes, I do think the end result is even better. Not big changes but just enough to amplify the flavors. I always add espresso to chocolate cakes; it elevates the flavor of chocolate. I also wanted something a bit more unique than the bazillion versions of the same thing scattered over the Internet so I decided to add some rum. There is rum in each component; complimenting but not taking over either. The Rum Buttercream? Decorative purposes only...do you know how hard it is to try and decorate a German Chocolate Cake? Spreading more of the coconut pecan frosting on the sides didn't appeal to me; this cake seems to be the original of the 'no frosting on the sides' rustic look we see more and more of today and I saw no reason not to keep that. Drizzling chocolate seemed to be just messy and not enough contrast to really make it more attractive. The idea of buttercream came to me only after the cake was done and cooling and I had been adding rum to all of the separate components...you know, one of those, "Hmm,. maybe a rum buttercream would work?" I was after a color contrast as much as anything but it's a nice little flavor surprise too and I know I won't make a German Chocolate Cake again without it. Ever.
What foods make you think of Comfort Foods? Are any of them similar to what we've put together? Don't forget to check out all of the great comfort foods from my friends after the recipe; you won't be disappointed!

German Chocolate Cake with Rum Glaze and Buttercream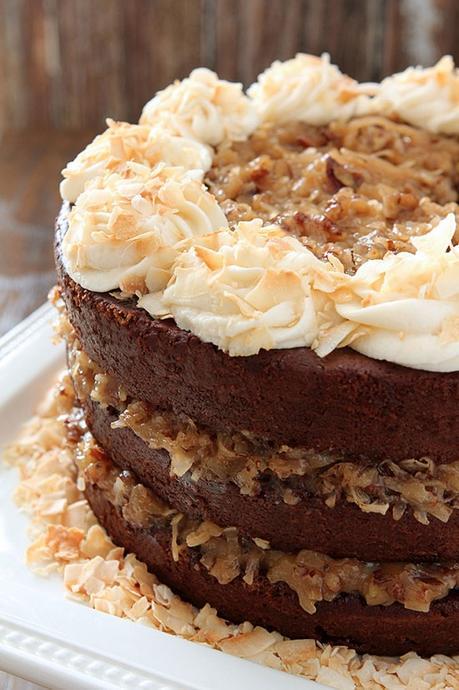 ¼ cup cocoa (to dust the pans)
1 pkg. (4 oz.) BAKER'S GERMAN'S Sweet Chocolate
1 Tbsp instant espresso
½ cup water
4 eggs, separated
2 cups flour
1 tsp. baking soda
¼ tsp. salt
1 cup butter, softened
2 cups sugar
1 tsp. vanilla
2 Tablespoons Dark Rum
1 cup buttermilk
1 cup water
1 cup sugar
2 tablespoons dark rum
1 1⁄2 cups heavy cream
1 1⁄2 cups sugar
4 slightly beaten egg yolks
3⁄4 cup butter
1 1⁄2 teaspoons vanilla
1 Tablespoon Dark Rum
2 cups shredded coconut
1 1⁄2 cups chopped pecans
½ cup of salted butter
1½ teaspoons vanilla
4 cups of powdered sugar
1 Tablespoon Rum
3-4 Tablespoons half and half
¼ cup toasted coconut (optional)
Heat oven to 350°F.
Cover bottoms of 3 (9-inch) round pans with parchment; butter sides of pans and parchment and dust with cocoa.
Warm chocolate and water in a small pan on medium heat until chocolate is melted; stirring constantly. Add instant espresso and stir to combine. Set aside to cool.
Beat egg whites in small bowl with mixer on high speed until stiff peaks form; set aside. Combine flour, baking soda and salt. Beat butter and sugar in large bowl with mixer until light and fluffy. Add egg yolks, 1 at a time, beating well after each. Blend in melted chocolate, vanilla and rum. Add flour mixture alternately with buttermilk, beating until well blended after each addition.
Add egg whites; stir gently until well blended. Pour into prepared pans.
Bake 30 minutes or until toothpick inserted in centers comes out clean. Immediately run small knife around cakes in pans. Cool cakes in pans 15 min. Remove from pans to wire racks; cool completely (See Notes).
Make the syrup:
In a small saucepan, heat the sugar and water until the sugar has melted. Remove from heat and stir in the dark rum; allow to cool.
Combine heavy cream, sugar, slightly beaten egg yolks, butter, vanilla and rum in saucepan.
Cook and stir over medium heat until thickened. Remove from heat.
Stir in shredded coconut and chopped pecans.
Cool until thick enough to spread.
Cream the butter in a mixer until fluffy using the paddle attachment.
Add the powdered sugar and mix until combined.
Add the rum and half and half and mix until smooth and spreadable (you might need to add more cream to get to the perfect consistency for you).
Put the first cake layer on a plate and brush with ¼ cup syrup. Top with ⅓ of of the Coconut Frosting. Repeat for the next two layers; leaving a one inch edge on the outside of the top layer un-frosted.
Pipe the Rum Buttercream around the outside edge of the top layer. Sprinkle with toasted coconut.
Memory Lane Comfort Food
Welcome to Progressive Eats, our virtual version of a Progressive Dinner Party. This month's theme is Memory Lane and is hosted by Lana Stuart who blogs at Never Enough Thyme. For our Memory Lane dinner, we all created recipes based on comfort foods which evoke feelings of nostalgia and warmth
If you're unfamiliar with the concept, a progressive dinner involves going from house to house, enjoying a different course at each location. With Progressive Eats, a theme is chosen each month, members share recipes suitable for a delicious meal or party, and you can hop from blog to blog to check them out.
We have a core group of 12 bloggers, but we will always need substitutes and if there is enough interest would consider additional groups. To see our upcoming themes and how you can participate, please check out the schedule at Creative Culinary or contact Barb for more information.