Match a rich brownie with this delicious coconut and pecan frosting and you've got German Chocolate Brownies.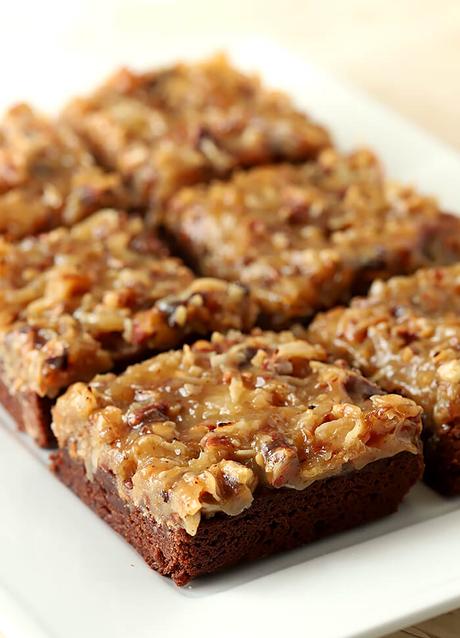 We are indeed in strange times and our daily lives are going through so much turmoil. I hope everyone of you that is reading this post is taking good care of yourself and your families; we truly are in this together. My intent over the next several weeks will be to try and deliver some delicious recipes like this German Chocolate Brownie that are relatively easy to prepare and offer up a treat that might comfort.
I have been absolutely gobsmacked for German Chocolate Cake ever since I can remember. As a young girl my mom would make it for my birthday using a box cake mix and the convenience food of the day...canned and ready prepared frosting. As I got old enough to bake on my own in our kitchen, the same box cake would suffice but ready made frostings had segued to one in a box that had butter and warm water added to it.
I honestly loved those then, but once you do like I did several years ago and try the cake from scratch, there is simply no going back. I believe my recipe is actually derived from the original one on the inside of a box of German's Sweet Chocolate. Check out my post for German Chocolate Cake to get the real skinny on why it's named that!
The only problem with craving a German Chocolate Cake? They're time consuming to make. So I decided not long ago that I had to try a brownie version. If I'm perfectly honest, it is that frosting that makes it...delivering it on a cake or a brownie hardly matters and actually on a brownie there is a greater frosting to cake ratio anyhow...I'm good with that!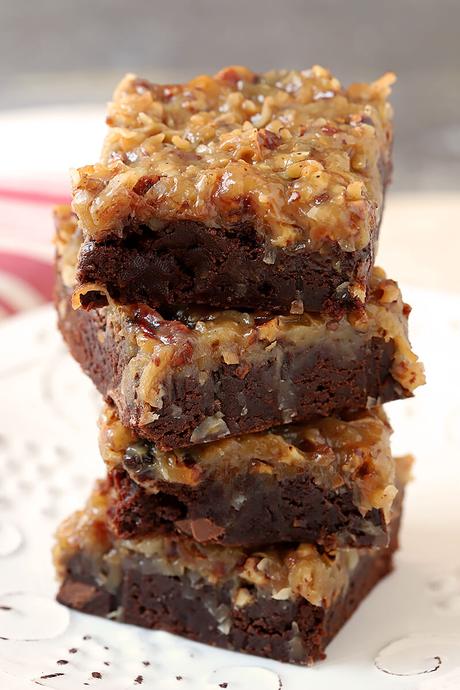 It was really quite simple to transition from a cake to these brownies. I have a favorite recipe for brownies that I simply mix up with either different nuts or chocolate chips in the batter. For this brownie, no nuts went in the batter but there are a nice handful of milk chocolate chips. If you have a preference for semi-sweet chips, use those certainly. This recipe for Gooey Brownies with Toasted Pecans and White Chocolate Chips is my go to and the method is as easy as this:
Prepare the pan - I always use both pan spray and parchment paper. Once you start using the paper, you'll feel the same as I do...never worrying about something sticking to a pan is all good.
Melt the butter and chocolate and then combine it with the remaining ingredients in a large pot; no electric mixer or bowls required.
Bake the brownies; being careful to test them and remove from the oven as soon as there is no batter sticking to a toothpick. These brownies are of the gooey variety; a toothpick should come out clean but the batter will never be dry. Without a leavening agent like baking soda, they are gooey, not a cake type brownie.
While the brownies are baking, make the frosting. When the brownies are removed from the oven let them cool completely before topping them with the gooey, nutty, coconut topping. I could literally eat it with a spoon.
Cut into portions and indulge!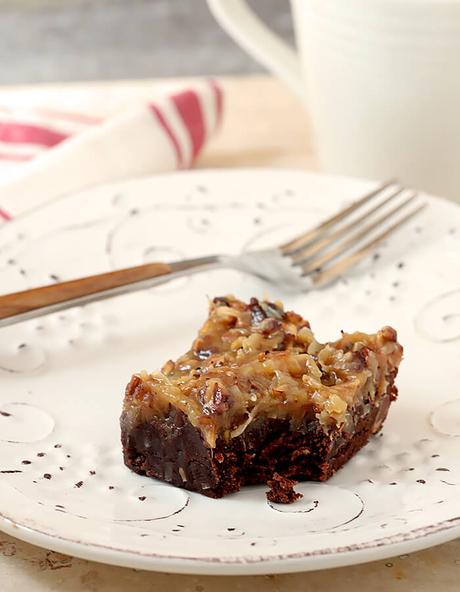 Most of the ingredients for these German Chocolate Brownies are pretty typical pantry and refrigerator items save for maybe the cream? In a pinch, use milk. They won't be quite as rich but will still be awesome. Try not to finish off the frosting with a spoon before they brownies get topped, OK?
I took the tray I made and cut them into serving sizes and while I shared some with neighbors, the ones left over are now wrapped individually in my freezer. We all need comfort food sometimes; I like knowing I've got some held aside for those days.
Take good care and stay safe...Barb
PIN 'German Chocolate Brownies'