Geranium palmatum (0706/2014, Kew Gardens, London)
Position: Full sun to partial shade
Soil: Moist, well drained soil
Flowering period: Late spring to early summer

Eventual Height: 80cm
Eventual Spread: 80cm
Hardiness: 8b, 9a, 9b, 10a, 10b

Family: Geraniaceae
Geranium palmatum is an evergreen short lived herbaceous perennial with a clump forming habit. Its light green leaves are palmate with up to five lobes, up to 35cm long and 35cm broad. Its pink flowers have five petals, are up to 4cm across and are borne singly on wiry stalks.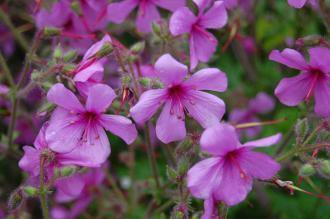 Geranium palmatum Flower (0706/2014, Kew Gardens, London)
Geranium palmatum,  commonly known as Canary Island Geranium, is native to the Canary Islands and Madeira. In its native habitat it grows as part of a woodland understory.
The etymological root of the binomial name Geranium is derived from the Greek geranos, meaning 'crane'; referring to the beak-like fruit. Palmatum is from the Latin meaning 'palm like', in reference to its leaves.

The landscape architect may find Geranium palmatum useful as part of a mixed herbaceous planting scheme. Once established this perennial is drought tolerant.
Ecologically, Geranium palmatum flowers are attractive to pollinating insects.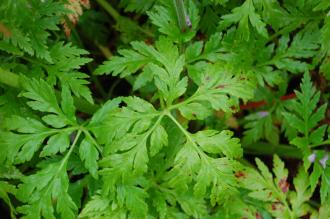 Geranium palmatum Leaf (0706/2014, Kew Gardens, London)
The Royal Horticultural Society has given Geranium palmatum their prestigious Award of Garden Merit in 1993.
Geranium palmatum prefers moist, fertile, well-drained soils. It tolerates most pH of soil.
Geranium palmatum  requires little to no maintenance. Flowered stems and old foliage may be removed to encourage new growth.