FirstLadyB| Black Christian Entertainment News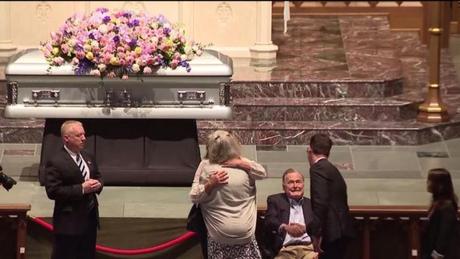 As former First Lady Barbara Bush lay in repose, her husband, President George H.W. Bush stayed by her side and greeted mourners as they came to pay their respects.
The former president sat in his wheelchair next to Barbara Bush's closed casket at St. Martin's Episcopal Church in Houston, Texas, on Friday, the day before her private funeral.
A touching photograph of the Bush patriarch depicted him gazing at the former first lady's metallic casket which was decorated with pink, yellow and purple flowers, according to People.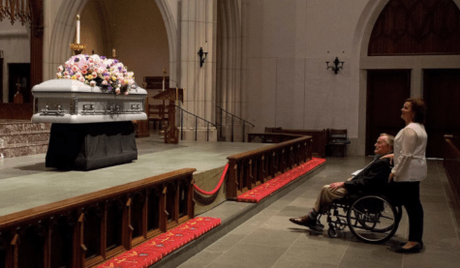 George H.W. Bush alongside daughter Dorothy as he gazed up at his wife, Barbara's, casketJim McGrath/Twitter
Bush's daughter, Dorothy, stood by her father with her hand on his shoulder as she also gazed upon her mother's casket.
Former President's Bill Clinton, and Barack Obama along with former First Ladies Hillary Clinton and Michelle Obama are scheduled to attend Barbara Bush's funeral today.