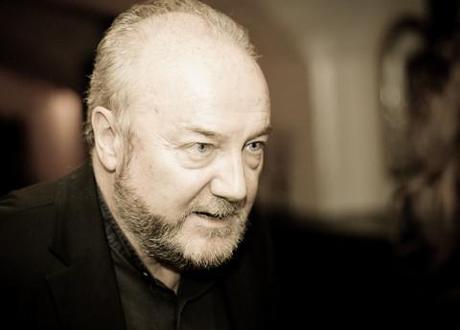 George Galloway. Pretended to be a cat on television. Photocredit: http://www.flickr.com/photos/knlphotos/5886947635/sizes/z/in/photostream/
George Galloway, the Respect party candidate who remains in mot people's memories for pretending to drink milk from an actress's hands in an edition of Celebrity Big Brother, has won a by election in the North of England. He's taken Bradford West from Labour, winning by over 10,000 votes. It's the first time a candidate from an independent party has won a by-election since 1973, and the first time since 2000 that the main opposition party has lost a seat in a by-election.
Galloway had been expelled by Labour in 2003. The Bradford constituency had been held by Labour since 1974. Galloway won 56 per cent of the vote, with a 65 per cent turnout. The Labour candidate, Imran Hussein, came second, with 8,201 votes, reported the BBC; the Conservative Jackie Whiteley had 2,746 votes, and the Lib Dem Jeanette Sunderland gained 1,505. Labour MP Toby Perkins said that Galloway's success was partly due to his celebrity status. Galloway's campaign focused mostly on his anti-war stance – which got him thrown out by Labour in the first place.
In slightly overblown terms, Galloway claimed that the result was a "Bradford Spring" and that his "mammoth majority" was a "total rejection" of the three main political parties. Commentators say that whilst he may be a maverick, and his win may have a lot to do with his supposed charisma and celebrity status, what he has done is show that some people are not happy with mainstream Westminster politics. Both Labour and the Tories should take a lesson.
A one off? Nick Robinson on the BBC said that Galloway had the "charisma, the celebrity and the message" that got through to "the young, the disillusioned", and, most pertinently, the Muslim community. It's a "setback" for Labour, since the opposition party during a crisis should be winning big. Still, the Tories shouldn't be happy either, as they only came a "poor third." This is "[a]n extraordinary result but surely a one-off political coup by a political one-off."
Don't read too much into it. David Cowling, the BBC's resident psephologist, said that Bradford West wasn't a "typical" seat – during the Labour landslide of 1997, it swung to the Conservatives (though stayed Labour); and in 2010, when there was a major Conservative swing, it went 2.7 per cent to Labour. So one must be "cautious about reading great national trends into this result."
Good for the Conservatives? The Tories can be happy, though, said Iain Martin in The Daily Telegraph. Galloway's victory is "a disaster for Ed Milliband." "Lucky old Cameron." In the crisis circumstances of the moment, "Labour should be winning comfortably." The Tories have "some way to go" in winning ethnic minority constituencies. But really Labour are in trouble. The party's opponents won't be dismissing this as a "feverish by-election" – they'll say that Milliband is failing. And Galloway will be in the House of Commons now – he's a "skilled rhetorician with a gift for needling the Labour leadership."
Watch out for minority parties. Damian Thompson, also on The Telegraph, said that "identity politics" was "alive and well" and showed that "hatred of Westminster" was behind the result. He added that Muslims – ordinary ones, not extremists – obviously felt "alienated" from politics, and had thus elected a "maverick." And ultimately it shows that "All three major parties are despised. Watch out for cunning footwork by minority parties. After all, we already have, God help us, a Green MP."
Shockwaves. Political blogger Guido Fawkes said that Labour bloggers were "not happy" with the party's management of the by-election: "A defeat after 'this week's circus' and while ten points ahead has sent a mighty shockwave right through the professional party." Chris Wimpress on The Huffington Post added: "have any of our politicians had a real wake-up call about this lately? No, they've collapsed into a fit of blustering over party funding, and then been happily distracted over rows surrounding Cornish pasties. They don't eat many of those in Bradford West."
But not a surprise. Peter Hoskins on The Spectator said that Galloway comparing his win to the Arab spring "leaves a nasty, bitter tang in the air." But that's to be expected – "Bluster, exaggeration and provocation are, after all, what Galloway does best." And the result wasn't even a suprise – Ladbrokes "suspended betting" on the result after "a rush of money was put down" on him.
Bad for Westminster. Galloway pulled off the same trick in Bethan Green and Bow in 2005, said the New Statesman's Staggers blog. But the seat swung back to Labour after Galloway's "lustre had faded" – his record of "parliamentary absenteeism and ill-advised media posturing" didn't help. But what Galloway has done is show that Labour is now seen as an Establishment party: "for many people, Labour, Tory, Lib Dem are all different brands of the same essential product." And no party knows how to make the kind of big swings into each other's terrain that will win them more votes. "George Galloway might be a unique character but the circumstances that gifted him victory might be replicated in hundreds of constituencies around the country. The Big Cosy Westminster Party took a beating last night."