George Floyd's brother, Terrence Floyd just endorsed Bishop Lamor Miller Whitehead as the next Brooklyn Borough President.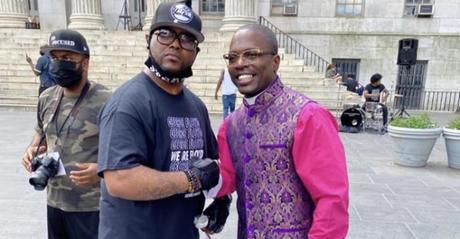 Terrence Floyd with Brooklyn Borough Candidate Bishop Lamor Miller Whitehead
"I'm endorsing Whitehead straight like that. He understands my story. I understand his story. This is an automatic brotherhood right here. He showed me love when I needed it, shared Terrence Floyd.
The gentlemen bonded over the death of their loved ones.
Whitehead's father, Arthur Miller was killed by NYPD in 1978. George Floyd's death "changed the world," and set the tone towards the end of systemic racism in America.
Whitehead's campaign is centered around fighting for criminal justice reform in Brooklyn.
He's the Pastor of Leaders of Tomorrow International Ministries with locations in Brooklyn and Georgia.
The election will be held on Tuesday, June 22nd.
Learn more about Bishop Lamor Miller Whitehead HERE.