Geoff Bartley may or may not be a national treasure, yet, but he has been instrumental to the careers of many "
FOLKSINGERS, singer-songwriters, finger-style guitar players, flatpickers, bluesmen, blueswomen, traveling minstrels, balladeers, acoustic rockers, touring and recording artists, traditional and contemporary solos, duos and trios, a cappella singers, musicians and instrumentalists of all styles!"
 over the years.  On Monday, December 12 
Geoff Bartley's Monday Night Open Mic at the Cantab
 will enter into its third decade, celebrating (with cake, I hear) 20 years!!! Congratulations, Geoff!
Don't believe me, read the words of Tom Paxton and Brad Paul:
"So you've been looking for real. You like it with the bark still on it, doncha? Look no further: Geoff Bartley's Put the Big Stone Down is right in the middle of the tradition (and) classy all the way. I love it." 
~ Tom Paxton (January 26, 2010)
"Geoff is an amazing player, he writes wonderful songs that speak to the heart and if that weren't enough, he is a great person who really cares about folk and roots music and the people who make it." 
Brad Paul – Former Producer/Host "Folk on WGBH"
...and specific to the 20th anniversary:
"Wow! Congratulations. The same job for 20 years, some 500 shows, around 2,000 opening songs. Heroic!"
~David Fishken
....all this reminds me I need to settle with the Republic of Cambridge for a parking ticket I got the night I brought 
David Massengill
 to the Cantab as the Monday night featured artist and the back lot had just been converted from parking meters to a computerized zone system. As 
Bob Dylan
 had warned, "don't follow leaders, watch your parking meters." How true.
If you want to see what makes Geoff the real deal, get to the CanTab about 4pm. That's the time Geoff arrives to load in and set up his personal sound equipment used for not only the Monday night open mic, but also the Tuesday night pickin' party, now in its 18th(?) year. But don't get in his way, he has his methods, carefully refined over 20 years. 
And remember, watch the parking meters!
-------------------------
This is the notloB Music Blog, I would be remiss to remind the reader that Geoff has graced notloB stages not once, not twice but thrice:
August 18, 2007
Loring-Greenough House
(
Eliza Blue
opened)
November 15, 2008  Clarendon Hill Presbyterian Church 

(co-feature with

Mary McCaslin)
March 10, 2010
  Jackson Homestead   (solo Feature)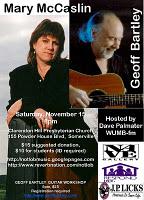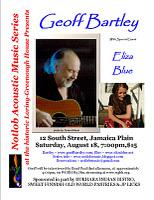 Maybe it's time to ask for another performance before his booking calendar is filled by venues just catching on to this national secret (and his fees go up), a wonderful artist and man.