After the holidays, I go back to school for my last year of A levels, then I should go to University! But I have decided to take a gap year and go travelling. I figure if I don't do it now, then I never will; there's so much of the world that I want to see! I particularly want to go to South America and Africa. 
I hate the idea of being at school from age 5 to 21 with no space to breath in between. So a gap year is perfect for me to see the world and take time to decide what I want to do with myself!
I cannot wait to begin travelling!
With travelling in mind...
I'm loving the Tribal/Aztec look at the moment (very 'traveller')! Here are some fabulous pieces on the high-street: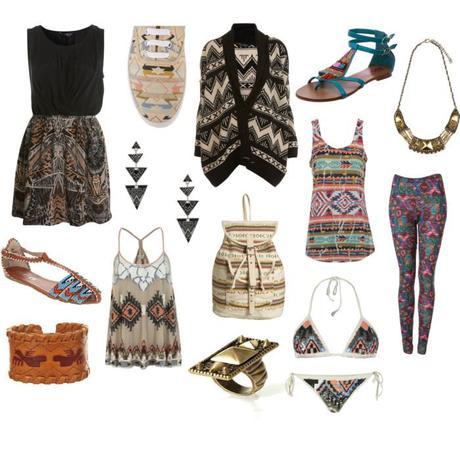 Miss Selfridge tribal dress
, £35, 
Miss Selfridge knit top
, £45, 
All Saints sheer top
, $270, 
Dorothy Perkins printed tank top
,£15, 
TopShop printed legging
, $40, 
All Saints bikini bathing suit
, $75, 
All Saints side tie bikini
, $75, 
Urban outfitters shoes
, $20, 
Head Over Heels by Dune turquoise shoes
, £31, 
T strap sandals Office
, £35, 
Drawstring backpack bag Topshop
, $66, 
Leather jewelry Topshop
, $28, 
Gold engraved ring Topshop
, $100, 
Forever21 post earrings
, $5.80, 
Gold jewelry Topshop
, $180