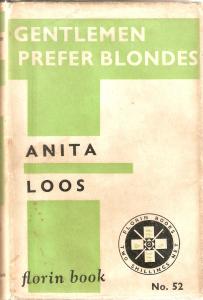 Book Review by Chris Hopkins.
I had to read Gentlemen Prefer Blondes because I started reading what I suspected was a parody of it, but couldn't be sure because I had never read the original. So, I'm going to review Gentlemen Prefer Blondes now so that I can in due course review 'Tackline' 's  (much less famous) wartime parody titled You Met Such Nice Girls in the Wrens (Robert Hale, London, 1943).
Anita Loos' novel is very well-known and and quickly became a best-seller in the US after its publication by Boni & Liveright in 1925 (in fact, it had already been avidly read in its original serial publication  in Harper's Bazaar). The novel was greeted with similar enthusiasm in the UK after its publication by Jonathan Cape in 1926 (I read Cape's pictured Two Shilling Florin Books re-issue of 1933). The Harper's Bazaar serial was known as the 'Lorelei' stories from the heroine's first name – though as a matter of fact 'Lorelei' admits in the novel that this is not her real name, but only one she adopted at a 'gentleman's' suggestion when she worked in films.  It seems significant that we never know the real first name of this character who is so expert at manipulating, concealing and using her identity for some highly focused purposes.
The novel takes the form of a diary, the origins of which are explained in the superb opening which immediately draws a reader into Lorelei's idiosyncratic style and world-view:
A gentleman friend and I were dining at the Ritz last evening and he said that if I took a pencil and paper and put down all my thoughts it would make a book. This almost made me smile as what it would really make would be a whole row of encyclopaediacs. I mean I seem to be thinking practically all of the time… So it might have all blown over, but this morning he sent me a book. And so when my maid brought it to me, I said to her, 'Well, Lulu, here is another book and we have not read half the ones we have got yet.' But when I opened it and saw that it was all of a blank I remembered what my gentleman acquaintance said, and so then I realized it was a diary. So here I am writing a book instead of reading one. (pp.11-12).
The style which Loos invents here is a creation of genius which sustains the whole novel: it immediately brings into being a highly confident personality apparently with no self-knowledge (and questionable knowledge and spelling in general) whose entire life is dictated by a succession of (and in fact often  simultaneous and overlapping) 'gentlemen acquaintances'. Yet one also notes that the diary idea does indeed allow her to record her rich experiences of how she and 'gentlemen' interact, and that her observation, 'I seem to be thinking practically all the time' may well be a key truth – for in fact she is always thinking very practically and is always several steps ahead of  any gentleman she cares to name. This woman who seems at first sight to be the archetype of the dumb blonde, the plaything of the men who are all merely by definition of their gender and money more powerful than she, is in fact fully in charge of her own life, if she makes certain concessions. Her voice in all its apparent simplicity reveals and conceals a complex layer of  her motives and also opens up wider ironies and insights into the interactions of the sexes in post-world war 1 America and Britain.
Even the title word 'gentlemen' accrues richer and richer ironies every time it is used (and it is used hundreds of times), for while 'Lorelei' would never of course interact with anyone who is  not in her view a 'gentleman', the reader quickly becomes certain that any man who has contact with her (many wish to 'educate' her) is by definition no gentleman (and may by the end of the novel suspect that there are, in fact, no bona fide gentlemen left anywhere in the US or Europe). Even Lorelei at times is driven by self-interest to doubt the status of some of her 'gentlemen friends':
Well, my birthday has come and gone but it was really quite depressing. I mean it seems to me a gentleman who has a friendly interest in educating a girl … would want her to have the biggest square cut diamond in New York. I mean I must say I was quite disappointed when he came to the apartment with a little thing you could hardly see. So I told him I thought it was quite cute, but I had quite a headache… (p. 21)
Sex is something that is never mentioned in the novel (that would be both unladylike and ungentlemanly), but  though I'm aware that to say it is to risk not being a real gentlemen, it is of course the hidden (well…) economy which drives the entire novel.  Loreli is always optimistic and hopeful, but as the novel moves on (taking her on a journey from New York to Paris, Vienna and London), the proliferation of gentlemen sometimes really does begin to give her a headache:
Things are really getting to be quite a strain. Because yesterday Mr Spoffard and Mr Eisman were both in the lobby of the Bristol hotel and I had to pretend not to see both of them. I mean it is quite an easy thing to pretend not to see one gentleman, but it is a quite hard thing to pretend not to see two gentlemen. So something has really got to happen soon, or I will have to admit that things seem to be happening that are not for the best. (pp.182-3)
Indeed, Mr Spoffard becomes so worried abut her health that he (in one of the funniest scenes in the novel) introduces her to a doctor in Vienna 'called Dr Froyd', who concludes that she has no inhibitions but really must develop some: 'I mean I told him things that I really would not put in my diary' (p.181).  Loreli also tries to improve herself while in 'the central of Europe', but her friend Dorothy is less committed, and while in Munich the two friends make different cultural choices when a faced with the  Haus der Kunst  and the Hofbräuhaus (and regular readers of this blog  who know of our connections with the Middlebrow Network will see why I simply must quote the following): 'So Dorothy said I could be a highbrow and get full of kunst, but she is satisfide to be a Half Brow and get full of beer' (p.174).
To follow the full complexities of Loreli's adventures, readers must read the whole novel, but in short she returns at the end of the novel to a career in films and finds her candid (and  indeed Candide) optimism justified – indeed so justified that 'she can say goodbye to my diary feeling that, after all, everything always turns out for the best' (p.256).
Now, in due course, I can review You Met Such Nice Girls in the Wrens – but I may also read Loos' sequel, But Gentlemen Marry Brunettes (1927), for our 'Transatlantic' topic in April 2018.