There are so many reasons for cranking up your kitchen and cooking at home. I've gotten so many fun comments on Instagram about why people like to cook and eat at home. And, this general tso's tender pork is just a perfect example of how cooking at home does more than just fill the belly. It warms the soul. Certainly fuels creativity. Gives you the clear cut knowledge and understanding of what you're really eating. Listen to some of others' reasons!
Reasons to Cook & Eat At Home
appleadayblog: 'I love cooking at home because I get to put my hair up, pour myself whatever I drink I want, put on whatever music I want, and make the recipes however I want. I get to dance around the kitchen and engage every single one of my senses...all while wearing my favorite sweatpants!'
twodogsandakitchen: Because it is frowned upon to take dogs into restaurants!
farmgal82: Preservative free..no 'fillers'. Just food.
looseheadset: It's less expensive. You know what's in the food. It's healthier AND IT TASTES BETTER.
mmagdalenairene: You can express yourself by cooking your favorite meals.
whattoeatfriend: So we can suppport our local grocery store and farmers markets and cause nothing beats a nice glass of wine while cooking leisurely.
sarashatticoftreasures: Most meals are better or as good as the ones eaten out. Certainly better than any fast food place. Plus, it's cheaper.
whiskanddine: No one is rushing you out the door!
darlenes_kitchen: You know exactly what's in your food and how it was prepared. Being in the kitchen creating meals is very therapeutic! The whole family can join in and it's awesome. Yes, those leftovers are deliciously convenient!
melissasproduce: the Best place to be somewhere surrounded by good food.
wrldgrl223: I can sit in my PJs at the table and no one cares!
I mean if you're not convinced to cook at home after these reasons, then maybe this recipe will help. Certainly, I know that some are intimidated about cooking at home. They may not have been as lucky as some to have grown up in a bustling kitchen of mom's or grandma's or both where cooking was the heartbeat of the family. In order to allay those anxieties and maybe fears, it's important to have fail safe recipes. And, that's what this recipe is. Totally fail safe!
In order to make this recipe really simple and for those busy folks, I used a packaged seasoning mixture. However, you can certainly make your seasoning from scratch. Pickled Plum shows you how to make General Tso Sauce three different ways: spicy, regular and sweet! Check it out!
Another great pork recipe! Mexican Fajita Street Pork Bowl!
For your convenience, I've attached at the end of several products used in this recipe that you can order from Amazon. Yes, I do receive a few pennies if you buy!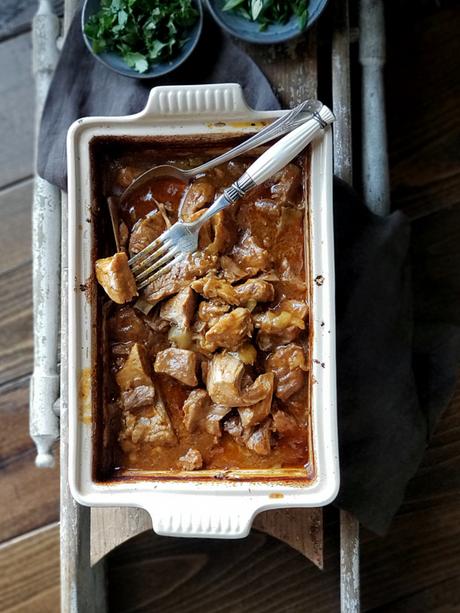 Ingredients
Preheat oven to 400
¼ cup oil
3 lb. pork country ribs, bone in
1 package (1.14 oz.) General Tso's Chicken Seasoning Mix + 2 cups water
1 Tbl. Gochujang (Korean Chili Sauce)
1 tsp. sea salt
1 tsp. pepper
2 cups V8 Juice
1 cup sliced pepperoncini, with juice (about one-half cup)
Instructions