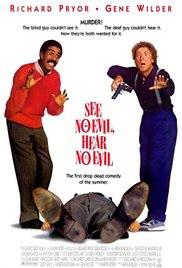 Director: Arthur Hiller
Writer: Earl Barret, Arne Sultan, Arne Sulten, Eliot Wald, Andrew Kurtzman, Gene Wilder (Screenplay) Earl Barret, Arne Sultan, Marvin Worth (Story)
Starring: Richard Pryor, Gene Wilder, Joan Severance, Kevin Spacey, Alan North, Anthony Zebre, Louis Giambalvo
Plot: Dave is deaf, and Wally is blind. They witness a murder, but it was Dave who was looking at her, and Wally who was listening.
There may be spoilers the rest of the review
Verdict: Better Comedy
Story: See No Evil, Hear No Evil starts a we meet blind gambling addict Wally (Pryor) and the deaf shop keeper Dave (Wilder), Dave offers Wally a job in the shop but when the man Wally owes money turns up at the shop and gets shot by a mysterious woman Eve (Severence), the two find themselves accused of murder.
When the real criminals Eve and Kirgo (Spacey) try to release Dave and Wally, they plan to kill them but after they escape Wally and Dave must find the real criminals before they either get killed or captured.
Thoughts on See No Evil, Hear No Evil
Characters/Performance – Wally is the blind man who is trying to get accepted in the world but finds himself holding people pack, he is quick to defend himself with violence. Dave is the mild mannered deaf shop keeper who has only been deaf for the last 8 years. He works with Wally to prove their innocence. Eve and Kirgo are the main villains that both work for the story with Eve being the sexy seductive type and Kirgo being the British villain.
Performance wise, Wilder and Pryor have improved chemistry here and get to show their comedy range but it still feels like a show just for their comic timing. Joan is perfectly cast in the role of Eve looking stunning in a role that is meant to led men astray. An early role here for Kevin Spacey was a surprise for me and you can see his talent here.

Story – The story works for comedy, a blind and a deaf man must work together to prove their innocence. We get the villains that are out for greed and the police trying to do their job but this does turn into a running joke about a blind and deaf guy routine.
Crime/Comedy – The crime story is routine enough but the comedy is the stand out here which is mostly blind man deaf man gags.
Settings – The settings are used to show the comical situations the two find themselves in. this does work well through the whole film.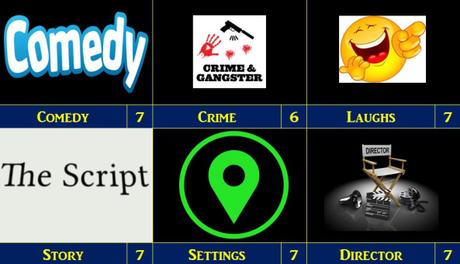 Final Thoughts – This is a good comedy but does fall into the making too much fun of the disabled to the extreme rather than pulling it all off slowly which it should be.
Overall: Fun and simple to follow comedy.
Rating

Advertisements