Before I jump to this very important topic of Gender Dysphoria, let me give you some gender statistics. It is very interesting to note how significantly different ways are adopted by men and women to be productive. Women are much capable of running productive meetings. If they keep a meeting of 60 minutes, they are not only successful in finishing it in time but also finish it on a conclusive note and with a crisp agreement of the next steps. Men, on the other hand, are quite capable of finding the most important messages in a high message volume despite looking less at their emails. They have a natural calibre of bypassing messages of low value.
Let's talk a little about Gender Stereotypes before coming to Gender Dysphoria. We all are well aware that weight training is very important for strengthening our body muscles and this has nothing to do with gender. Now, women produce less testosterone in comparison to men do on average, and hence testosterone has a crucial role in determining the strength of muscle. Fine, now, let's come to the main topic. What is Gender Dysphoria? I slightly higher age boy in my neighbourhood during school days had a strange passion of playing old Bollywood female dance songs, wrap a cloth around his body and head, and dance. It was never taken seriously by his family at that time.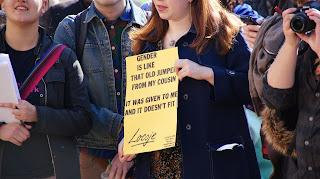 Photo credit: tedeytan on Visualhunt
If a male experiences a feeling of distress because of a mismatch between his biological sex and gender identity, then he is facing with Gender Dysphoria. The same is applicable to a female. Therefore, it's very important to notice it at the earliest and find out the best possible solution. We would see below the possible solutions below. This is generally also termed as transgender. Now, once this distress develops in a person because he or she is suffering from Gender Dysphoria, it can further deteriorate when he or she gets misgendered, isolated, and stigmatized. The best kind of treatment in such cases is transitioning and proper therapy. This is a kind of Mental disorder. It's diagnosis is well defined in the Diagnostic and Statistical Manual of Mental Disorders (DSM-5).
One of the most important part of treatment in Gender Dysphoria is Gender Transitioning. In Gender Transitioning, a transgender undergoes to align with its gender identity. There are multiple dimensions to Gender Transitioning. First is Social Transition that is about changing their gender expressions. Second is Medical Transition that involves changing their body. Medical Transitioning further involved two therapies. One, Hormone Therapy. Two, Gender Affirmation Surgery.
Education, Respect, and Acceptance /Validation is important in society for giving a right place to people suffering from Gender Dysphoria.
I am taking my blog to the next level with Blogchatter's My Friend Alexa
This post is part of Blogchatter's #CauseAChatter – #GenderTalks campaign