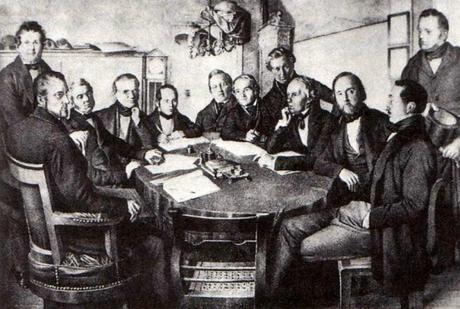 When it comes to gender diversity, too many boards still look like this in 2015 (Photo: Wikimedia Commons)
Corporate boards have historically been comprised mainly of men. However, a number of countries have begun imposing quotas for the number of women on the boards of publicly traded or state-owned companies — an idea that is now being considered as a European Union-wide rule. This is likely to compel businesses elsewhere in the world, including Pakistan, to consider the gender diversity of their own corporate boards.
According to the International Finance Corporation, just 13 percent of 303 companies surveyed in Pakistan in 2010 had more than one woman director — a sample that included publicly listed companies, large family-owned firms, and private, unlisted companies. 
A recent survey conducted by the Pakistan Institute of Corporate Governance (PICG), titled Gender Diversity at Board Level, highlighted the lack  of qualified women as the top reason responsible for the under-representation of women on corporate boards in Pakistan. However, it can be argued that female professionals face numerous other barriers to being elected to corporate boards. Societal norms mean that male-dominated boards and directors frequently overlook qualified female candidates.  Moreover, the majority of Pakistani companies that do have female board members tend to be family-owned enterprises, implying that female board members can be successful when they are able to bypass traditional social barriers through existing connections.
CIPE Pakistan, in cooperation with the Pakistan Institute of Corporate Governance (PICG) and the Institute of Chartered Accountants of Pakistan (ICAP), recommended reviewing the 2002 Corporate Governance Code, and supporting the greater inclusion of women on corporate boards. The project yielded significant results, as policy makers revised the country's Code of Corporate Governance in 2012 to include a component encouraging gender diversity in corporate board selection.
While achieving gender balance in corporate boardrooms is still a ways away, it is encouraging to note that recent findings by PICG show that female representation on Pakistan's corporate boards has increased from only 40 directors in 2010 to 170 in 2015.
Moin Fudda is Country Director for CIPE Pakistan.