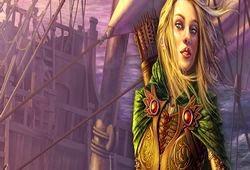 The clock is ticking down to July 30 when Gen Con opens for a weekend of gaming, entertainment, and fun for gamers of every age! There will be over 400 exhibiting companies, and the Gen Con's Exhibit Hall will be filled with some of the most exciting collection of debuting games, and gamer gear in Gen Con's 48-year history.
When you visit Gen Con's website you'll find information on events, be able to get your Badge, and check out the Exhibit Hall Map's to get a layout of all the places to visit.
The Gen Con Events team have over 13,000 submitted events, and have found spot for most of them. Be sure to review the updates on their sites for any changes and additions to the schedules. As they continue to finalize the schedules the downloadable Event Catalog will update every six hours.
Gen Con takes place at the Indiana Convention Center, located at 100 S. Capitol Ave on the corner of E. Maryland Street and S. Capitol Avenue in downtown Indianapolis. As you check for updates on their site you'll also find news on the Shuttle program that connects you between area hotels and the convention.
If you're flying into the Indianapolis International Airport you'll find it's an easy 15-Minute drive  to downtown Indianapolis. There will be a number of transportation options available from the airport including taxis, limousines, public transit, and rental cars. If you need help when you arrive visit the Guest Services that is located just beyond the Ticketing Hall before the entrance to Civic Plaza. They can help with directions, rental cars, taxis, as well as information on Indianapolis attractions and services.
See You At Gen Con - The Best Four Days in Gaming!
Getting There:
To order your badges, check the schedules, and register for events go to the Gen Con website at http://www.gencon.com/.