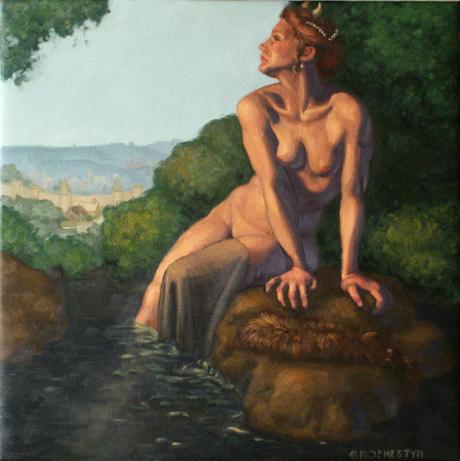 Diana (oil on linen)
Our peripheral community of artists in Vienna is steadily growing. Our fluid group moves between two locations: Mikes Werkstatt in the third district and Kaffeebar Quentin in the seventh. Our sessions have evolved from weekly gatherings in a Wohnküche to consume most evenings of the week. Sometimes we draw costumed models, sometimes we paint portraits sustained over many weeks, sometimes we focus on short poses, sometimes we concentrate on fundamentals of drawing.
But all this close contact and mutual interest in working from life has forged a pleasant and vibrant little society, and we are excited to share our most recent projects in a group show early next month in Takt Keller, 1090 Vienna! We are well-practiced in carving out cosy and secretive burrows in the hidden nooks of Vienna, and we invite you to enjoy a little hospitality and the musical talents of our gifted friends while you cast your eyes over our work.
Thursday, 7 April, 2016
7pm
Galerie Takt
Ingen-Housz-Gasse 2, 1090 Wien
The above painting is partly from life, partly a study of Titian.