Gemini is ruled by Mercury, the Greek Hermes; he is the Lord of Speech. Gemini is related to the vocal cords and Visuddhi, the throat chakra. Through the vocal cords, the air connects the inner with the outer space. The word is expressed through our breath by the messenger, symbolized by Mercury. In meditation, the throat centre is also the entrance into the element of space called Akasha in the East.
The doorway of Gemini is symbolized by the two pillars of the sign

representing the polarity of seeming opposites or the dual nature of the mind. The colour of the Gemini and the throat chakra is described as a shade of green which produces blue; it has a great healing effect. The crystals of copper sulphate give an idea of this colour.
In this image, you see Mercury standing between two bluish pillars. There is an influx of yellow-green light from above. Mercury wears a hat with two wings, which are depicted partly concrete, partly etheric – symbol of the Messenger of the Gods or the Light; it radiates through his eyes. His face is half light blue, half golden yellow, representing the dual nature of the mind and of the Buddhic plane. His throat centre of bluish-green colour radiates into space.
I created its colour with the help of a photo of crystals of copper sulphate. And Mercury with the help of a plaster bust of Mercury by the French artist François Rude.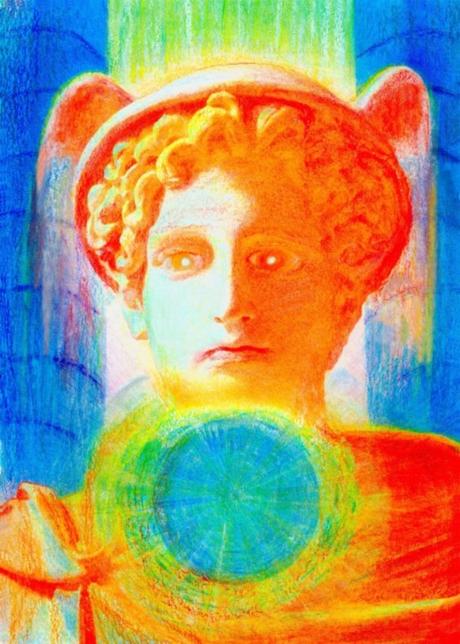 24 February 2015, pencils and photo work