The symbol of Gemini is like a gate. It marks the threshold between unity and multiplicity and then the separation from unity. In the opposite direction, Gemini leads back to unity.
In this picture, the view leads the observer through an archway over a bridge-like path, designed with a photo of the top end of a moving stairway in the Elbphilharmonie Concert Hall in Hamburg, Germany. The people move as if without any action on their part.
For the background I used the photo of a newspaper page ("Der Bund", 31 January 2020) with an article about the UK's withdrawal from the EU on the eve of the Brexit. I turned the colours into the negative and fused this photo with the mirrored form of the picture. The headline "Wie der Brexit" (Like the Brexit) and its reflection appear like signs of a bifurcation. In the background on the right there is the mirrored slogan "Get Brexit done"; on the left, only faintly visible, there are two dogs tied together with the flags of Great Britain and the EU, all in turquoise as predominant colour, the color associated with Gemini and the throat center.
At the top of the picture you can see a flame surrounded by reddish colours and inside, in a delicate glow, Maitreya, the head of the Spiritual Hierarchy. The Masters of Wisdom intensively work for the unity of humanity and especially for the European unity. People, however, often choose the ideology of the island consciousness of separation.
See more pictures on the site with my paintings. If you want to print the image, you can download the file in medium and high resolution format.
The different zodiacal signs are clustered in groups – you can see here all my Gemini paintings.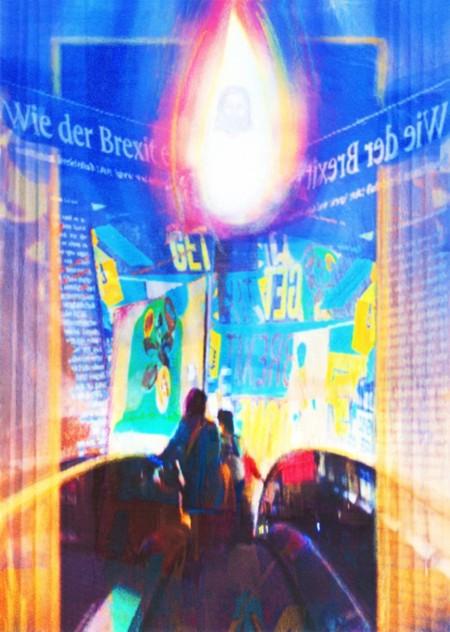 11 February 2020, pencils and photo work