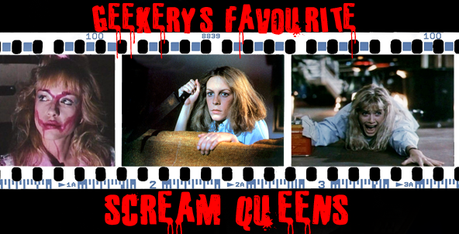 Halloween is not too far away, and it has for several years marked October as 'Horror Month'. It really is a time to celebrate all things horror and we here at HoG are celebrating in many different ways.
We have complied a list of our favorite Scream Queens, celebrating the wonderful women in horror. We have many lovely ladies listed, past and present. Sit back and relax as we name who we love, why and what films we recommend you see them in.
Marcey's Pick – Barbara Crampton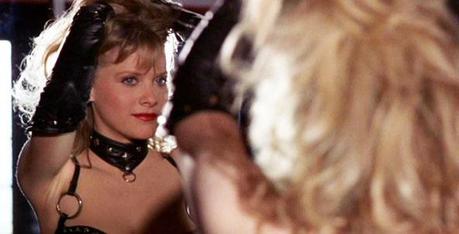 When it comes to Scream Queens, my all time favorite is and will likely always be Barbara Crampton. The woman absolutely blew me away with Re-Animator. Her presence, strong performance and amazing charm won me over. She has appeared in other horror efforts, teaming up with Jeffrey Combs and Stuart Gordon a few other times with From Beyond and Castle Freak. The woman never ceases to impress with what she brings to each role, mixing such strength with pure sex appeal.
I have seen most of her work, and no matter what the film she is always a stand out. Heck even her soap opera work is really strong and memorable! She can do no wrong in my eyes, and she is a true staple in the genre. Perhaps she is not as popular as some others, but she deserves the appreciation and respect for her work. She will next be seen in Rob Zombie's latest Lords Of Salem and I can't wait to see her in it.
Recommended Barbara Crampton Viewing: Re-Animator, From Beyond
Funk's Pick – Jamie Lee Curtis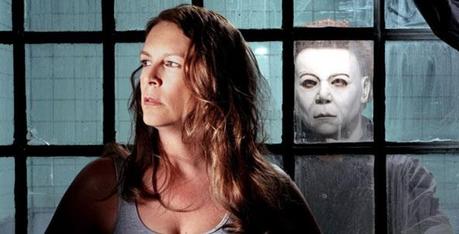 Although Jamie Lee Curtis is better known to younger audiences for her comedy work in Freaky Friday and the cult film A Fish Called Wanda, she started her career having been heavily typecast as the damsel in distress in horror slasher movies and was one of the first actresses to have the term 'Scream Queen' applied to her. Her earliest resume entries read like a 'must-see' of 70s horror.
What separated Jamie Lee Curtis out from other actresses in horror movies of the time was the strength of her characters. Curtis brought more to the roles than being yet another screaming girl to be felled by the psycho's blade, instead adding depth to the role and fighting to the last breath. Whenever Jamie Lee Curtis was in the film you knew that someone had a fighting chance against whatever monster John Carpenter had conjured up, and her presence in the film lifted it from disposable slasher to a must see event.
Recommended Jamie Lee Curtis Viewing: Halloween
Matthew's Pick – Melissa George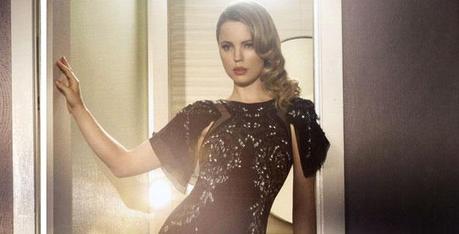 Melissa George might not be the most prolific of Scream Queens but she is one of the hardest working appearing in several of the best and most original horror flicks of recent years. With her natural beauty and huge amount of talent George deserves to be recognized as one of the greatest Scream Queens.
Starting off as a teenage model, George's first acting role was with Australian soup Home & Away. Following three years on the show she went on to have bit parts on films such as The Limey, Dark City, Mulholland Drive and the TV show Charmed. Her first foray into horror was the 2005 remake of The Amityville Horror. While it was not received well George's portrayal of Kathy was seen as one of the better parts of the film if not totally memorable. Following Amityville George kept to the horror side of films with the thriller Derailed, Turistas and the highly underrated WΔZ (Known as The Killing Gene in the US).
But it was 2007's 30 Days Of Night which confirmed George's role as an up-and-coming Scream Queen playing the wife of Josh Hartnett's main character, George, a role that had equal parts strength and emotion and she used both brilliantly. From there her horror career expanded with her two best performances, the highly acclaimed Triangle (Her first lead horror role) and A Lonely Place To Die (For which George climbed Ben Nevis in Scotland).
George hasn't limited herself to the horror genre, she's recently starred in the HBO drama In Treatment for which she received a Golden Globe nomination, Grey's Anatomy and Lie To Me. She was picked up to be the face of the L'Oreal Melbourne Fashion Festival, harking back to her modelling days. She's even credited as the inventor of "Style Snaps", a device intended to allow changing pant hem length without sewing.
George might not be an A-List star but with her talent and beauty it's only a matter of time before she's recognized as one of the best modern day Scream Queens.
Recommended Melissa George Viewing: Triangle
Bryan's Pick – Danielle Harris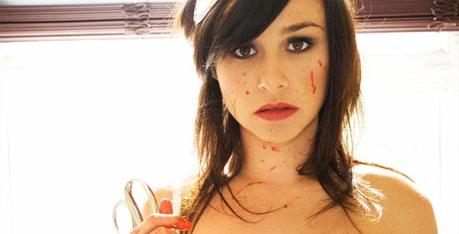 There have been many lovely scream queens in the world of horror, such as Jamie Lee Curtis or Heather Langenkamp. These are great women who have starred in some classic horror films…but if I had to choose a scream queen for today's generation of horror films, I would look no further than Danielle Harris. Danielle came into the world of horror with Halloween 4 where she played young Jamie Lloyd. At a young age she already displayed so much talent and she went on to become the only good part of the atrocious Halloween 5. For years she disappeared but recently in the last few years she has come back and is taking over the horror genre with a force! Danielle mostly stays towards the indie fare such as Stake Land or Blood Night: The Legend of Mary Hatchet.
She even returned to the franchise that made her famous but this time as Annie Brackett in Rob Zombie's remakes of Halloween. I have to give her a special note in these movies because the character could have been rather annoying, but she playing Annie 2.0 with so much playfulness that she ended up becoming the only person I cared for in Halloween and in Halloween 2, she was VERY likable and she really shone in the movie. Danielle seems to have a love for the genre and I don't see her leaving anytime soon. She has MANY new horror films on the horizon, such as Hatchet 3 for example, and I look forward to seeing her in many more in the future.
Recommended Danielle Harris Viewing: Halloween 4, RZ's Halloween 2 (at least for her acting)
Jamie's Pick – Amber Heard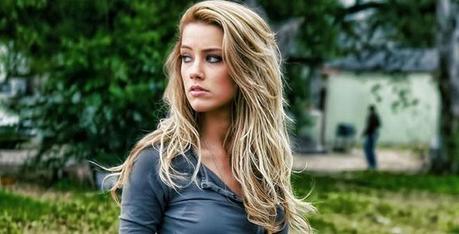 Amber Heard is one of today's biggest Scream Queens. With her stunning good looks, fabulous personality, and ability to be more than just the stereotypical dumb blonde, Amber has cemented herself in the horror genre. Her first horror feature was the low budget SideFX in 2005 where Amber played a college student caught up in the disastrous effects of a mysterious new drug. She then debuted as the lead girl in the 2006 film All the Boys Love Mandy Lane. It's not nearly as well known as it should be, and besides being a good movie on its own, it really showcases Amber's talent and ability to lead a film.
After a small role in 2009's Zombieland Amber hit the horror train and didn't look back, appearing in 2009's The Stepfather and as the lead in John Carpenter's The Ward in 2010. She shows up in another horror remake in 2010's And Soon The Darkness as well as the 2011 action thriller Drive Angry. Amber has many more films slated to be released soon and we have the feeling she won't be giving up her spot as one of our generation's best Scream Queens any time soon.
Recommended Amber Heard Viewing: All the Boys Love Mandy Lane.
Omar's Pick – Linnea Quigley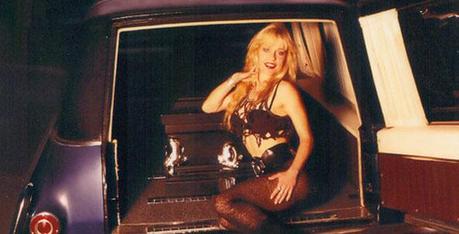 Linnea Quigley can be called the Queen of the B Movies and you wouldn't be wrong in saying so. She has starred in over 50 films and has established a strong career as the exploitation scream queen. She is mostly well known for her role as Trash in Return of the Living Dead where she dances in a graveyard completely nude which is a rocking scene in an awesome movie. She's also appeared in the original Night of the Demons being the participant in one of the film's most memorable scenes involving lipstick.
Quigley has also starred in slashers like Silent Night, Deadly Night, Graduation Day, Jack-O, and even a small cameo in Nightmare on Elm Street 4: The Dream Master. She is the rock n' roll scream queen that had attitude, looks, and the ever so necessary skill of losing her top when needed. Quigley may not get mentioned as often as Curtis, Harris, or Langenkamp, but she definitely is one of my personal favorite scream queens of the genre.
Recommended Linnea Quigley Viewing: Night of the Demons
Rick's Pick – Sigourney Weaver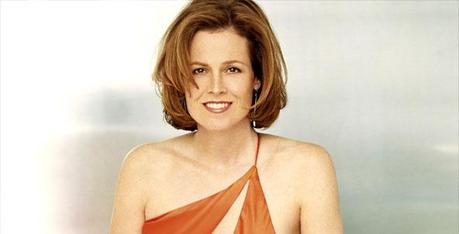 When it comes to scream queens, I feel like you don't always think of Weaver. For one thing, she never really screamed (at least not memorably), and more importantly, her horror resume is not that deep. She is in Red Lights and Ghostbusters, and she has Vamps coming up. She cameoed in Cabin in the Woods, and her appearances in Galaxy Quest and Paul are both mostly about fan-fare. Forget all that though! The reason why she is even remotely put in the same league as the other go-to members of this list is her lead role in the Alien franchise, specifically the first two.
The first Alien is a testament to subtlety. It preys on our fears of the unknown taking a similar approach to their creature as Jaws. We never really get a clear look at the alien that is stalking the crew, and that makes it exponentially scarier. When we do see it, it is something primal and ferocious. To contrast with this, we need a symbol of innocence. This is where Weaver's Ripley character comes in. She is young, nubile, and sexy. If you pay attention, she volunteers to do so much of the dangerous work, but she is constantly told to stay back. Her reaction to this sidelining is always a very confused and angry stink-eye. Since her daughter aged and died while Ripley was in cryo-sleep, she starts out Aliens 2 incredibly damaged. They need her expertise in destroying the aliens that ravaged her last crew, so she sucks it up and gets to work. She eventually finds a surrogate child during their mission, and her maternal instincts motivate her to look fear and death in the eyes (if the aliens had eyes). Her obsession with keeping the young Newt safe comes from such a purely moral place.
There is always a problem with strong female characters because they tend to be "Mary Sues." They are physically strong and talented to trick us into thinking they are more than just a sexpot to follow the male character around. Actual strong female characters have their own personal problems to overcome and are able to embrace their femininity without seeming weak. Ripley is the poster child for this concept. She's not just a final girl, she's an action hero.
Recommended Sigourney Weaver Viewing: The first 2 Alien movies
Randy's Pick – Fay Wray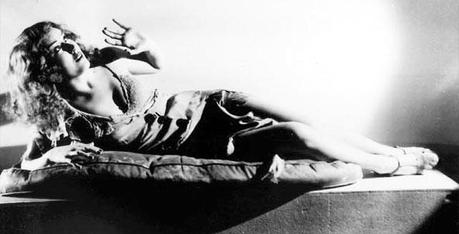 Fay Wray will forever remain an important part of cinematic history by being part of one of the greatest films ever made, King Kong. A film that has stood the test of time. It revolutionized the horror and adventure genres, it changed the way we looked at movies and it was a technological marvel as well. It was one of those films that made people at the theater run to their mommies. Most importantly, even after she worked for more than 10 years in the business, it immortalized Fay Wray and cemented her title of first Scream Queen ever, even if the iconic image of women screaming in horror movies have been present since the silent era, the term Scream Queen was actually invented for Fay Wray.
It didn't start with King Kong. Doctor X was her first foray into horror, it was your typical serial-killer-cannibal-body-part-thief film, and that's just the tip of the iceberg (there's a mad scientist in there as well). Fay might not have been wearing some jeans and a white tank top but she still embodied the modest but seductive anti-damsel-in-distress. Doctor X was a huge success and Fay went ahead and made 4 other horror films back to back: The Most Dangerous Game, The Vampire Bat, Mystery of the Wax Museum and finally King Kong. She strayed away from horror after her love escapade with the giant gorilla because she pretty much didn't have to return, the title of first Scream Queen had been written in stone.
Recommended Fay Wray Viewing: If you are a lover of movies you should have already seen King Kong so I'm recommending Doctor X, if not for Fay Wray nor the unconstrained story, do it for the artistic merits alone. It's your classic expressionistic set design that makes the movie pop.