Michael Nixon of Geek Crash Course guested on Funding Fridays before the new year, and here is an update on his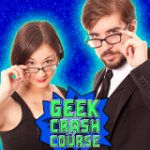 Kickstarter success. This is also a very cool way to interact with your supporters and nurture new fans. I can't make it because ironically I'm attending a How to Run  A Successful Kickstarter Campaign at LA Makerspace (expect live blogging), but enjoy!
From an email:
Hello faithful Geek Crash Coursicans (Too much? Too much…),
Tonight, Diana and I will do battle with the forces of the Google Hangout on Air to bring you a LIVE answering of Kickstarter backer questions at 10pm ET tonight.
If you haven't already answered your survey, do that before 9pm ET tonight and we'll answer your Geek Crash Question live tonight!
Check out our Twitter and/or Facebook for the link when we go live. In case you miss it or can't make it, the show will be archived forever on the glorious servers that we call home on YouTube (and then subsequently on Blip when I get done downloading it from YT and uploading it there).
Thanks again for all of your support and we hope you join us tonight.
All the best,
Michael Nixon
Geek Crash Co-Host